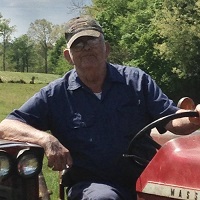 Ronald Wayne Dupin, age 78 of Big Clifty, KY passed away on Saturday, December 11, 2020 at Hardin Memorial Hospital.
He was born in Solway, KY, the son of Carlos Dupin and Elva Cundiff Dupin and was married to Elizabeth Wempe Dupin. He was a retired farmer and worked at Crucible Steel. He was a Free Mason at Leitchfield Lodge #236, a KY Colonel, a volunteer Fireman for 18 years at West 84 Fire Dept., served in the Military and enjoyed wood working.
Visitation: Tuesday, January 14, 2020 from 11 AM to 8 PM CST; Wednesday, after 9:00 AM CST at Rogers-Oller Funeral Home. Masonic Service Tuesday, January 14, 2020 at 6:00 PM CST at Rogers-Oller Funeral Home Funeral service: Wednesday, January 15, 2020 at 11:00 AM CST at Rogers-Oller Funeral Home with Bro. Glen Cornett officiating. Burial to follow in Smith's Chapel Cemetery.
He was preceded in death by his Parents, Wife, brothers: McKinley, Paul, Charles and Ray; sisters: Elizabeth Logsdon, Mary Coogle and Pauline Coogle and one grandchild, Ethan.
He is survived by two daughters: Brenda Dupin and Nancy Dupin; one son, Billy Dupin and four sisters: Edna Akers (Billy), Ruby Gore, Evelyn Morgan and Verniece McGuffin.