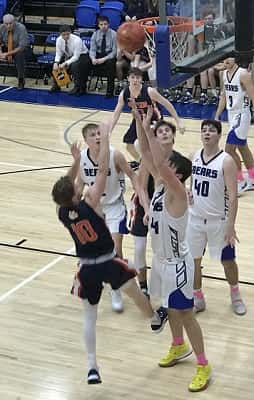 Down 15 points with 2:34 left in the third quarter, the Cougars rallied back to within two points of the lead with 3:00 left in last Friday's game at Butler County, but the Bears held on to win 56-48.
The lead changed hands three times in the first period before the Bears emerged with a four-point advantage, 11-7 heading into the second period.
The Cougars then opened the second period with an 8-2 run to take a 15-13 lead with 5:07 left. The Bears responded with an 11-0 run that put the in charge by nine, 24-15 with 1:14 left to play in the half. They led by eight points, 25-17 at the half.
An old-fashioned three-point play by Butler County's Parker Rice with 2:35 left in the third quarter gave the Bears their largest lead of the night, 15 points at 43-28. Three free throws by Grayson County's Jaxon Higdon with one second left cut the Cougar deficit to 12 points, 43-31 heading into the fourth quarter.
A three-pointer by senior Nolan Shartzer with 3:37 left to play capped a 13-3 Cougar run that brought them to within two points of the lead, 46-44, but that would be as close as they would get. The Bears out scored the Cougars 10-4 the rest of the way to pull away for the win.
Butler's Rice led all scorers with 20 points, while Solomon Flener added 16.
Shartzer led the Cougars with 19 points and he added four rebounds and four assists. Sophomore Keegan Sharp hit five three-pointers to finish with 15 points for the Cougars. Higdon finished with nine points, Dillon Horn added four points and four rebounds, and River Blanton, seeing his first action of the season, finished with one point and four rebounds.
Sophomore Hunter Tomes did not score in the game but led the Cougars on the glass with nine rebounds.
By Don Brown, Local Sports
Reach Don at donbrown@k105.com