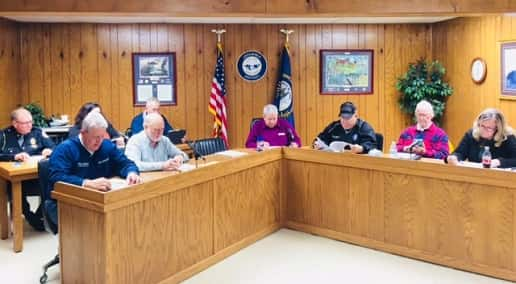 After nearly a month of discussions and one other vote, on Monday afternoon in a special called meeting the Leitchfield City Council voted to approved Kentucky League of Cities (KLC) as Leitchfield's insurance carrier for the next six months.
The insurance is for general liability, employee benefits liability, public officials liability, law enforcement liability, auto liability, umbrella coverage, as well as cyber liability.
Kentucky League of Cities bid (via Kinkade-Cornell Insurance Agency) of $94, 982 was approved over Travelers Insurance lower bid (via Aubrey Beatty, Nationwide Insurance) of $81,000 by a vote of 3-2 (For KLC, Billy Dallas, Kelly Stevenson, Margie Decker; against KLC, Clayton Miller, Tooty Cottrell — Harold Miller was unable to attend the meeting).
Over the last month, council members and insurance representatives have debated and sometimes argued the amount of coverage offered by each provider. City officials have also investigated a claim of a conflict of interest regarding Kinkade-Cornell Insurance Agency part-owner Steve Kinkade, who also serves on the city's Planning Commission as well as the Board of Adjustments.
According to city officials, after researching the conflict of interest issue it was learned that protocol for such matters dictates that the person involved in the conflict (Kinkade) state before the council that there is a conflict of interest, which Kinkade did Monday afternoon.
Before Kinkade spoke to the council on Monday, the council rescinded its previous vote to accept KLC's bid, then re-voted to accept the bid after Kinkade told the council that he serves on two boards.
Coverage breakdown
KLC's bid includes $5 million of coverage in all the areas listed above, with the exceptions of the umbrella coverage (which KLC does not offer) and cyber liability, which checks in at $1 million of coverage.
(Umbrella insurance is extra liability insurance coverage that goes beyond the limits of the insured's insurance. It provides an additional layer of security to those who are at risk for being sued for damages to other people's property or injuries caused to others in an accident.)
Compensating for not having umbrella coverage, KLC offers unlimited aggregate coverage in all areas except for cyber liability, which provides $1 million in aggregate coverage – The aggregate limit of liability is the total amount in dollars that the policy holder could be paid by the insurance policy.
Travelers Insurance bid included $1 million of coverage in all areas listed above with the exception of umbrella coverage, which was $5 million. Travelers bid also did not offer cyber liability coverage.
The city, in an effort to join most other entities in having its fiscal year begin on July 1, agreed to a six-month policy, at which time the matter will be revisited.
Billy Dallas chides his fellow council members
Voicing frustration with the seemingly endless process of making a decision on the city's insurance carrier, Councilman Billy Dallas told the council, and the many candidates who will be running for a council seat who were in attendance, "No wonder 18 people signed up to run for council. If we can't get our stuff together no better and act more professional than what we have with this right here, we're hurting. Get ready for your (retirement) watch."
By Ken Howlett, News Director
Contact Ken at ken@k105.com