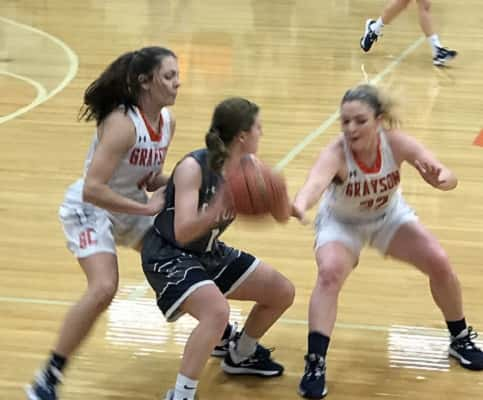 The Lady Cougars led from start to finish Monday night in the Cougar Den as they downed the visiting Ohio County Lady Eagles 55-39 to move to 12-4 on the year.
Grayson County put two players into double-figures, led by senior guard Kenzie Renfrow, who finished with 21 points, six rebounds, three assists and six steals. Senior forward Bailey Snyder added 14 points, four rebounds and two steals.
The Lady Cougars scored the first six points of the game, but led by just a single point, 11-10 at the end of the first period. Grayson County then outscored the Lady Eagles 23-12 in the second period to lead by 12 at the half, 34-22.
The Lady Eagles pulled to within three points of the lead following a three-pointer by Ella Gaddis and a rebound basket by Camryn Kennedy at the 2:46 mark of the second period  , but the Lady Cougars closed out the period with nine unanswered points to lead by 12 at the half.
The Lady Cougars then scored the first seven points of the third period, making it 16 straight points to lead by 19 points, 41-22 with 6:29 left in the third period. They led by 14 points, 45-31 heading into the fourth quarter.
Heaven Vanover led the Lady Eagles in scoring with 14 points.
Junior Rachael Snyder finished with eight points and a team-leading 11 rebounds. She added three assists and three steals to her totals. Freshman Annie Kiper continued her solid play off the bench with six points, three rebounds and two steals.
Raigan Cave came off the bench to contribute five points, while freshman Aryssa Riggs completed the scoring with one point.
By Don Brown, Local Sports
Reach Don at donbrown@k105.com