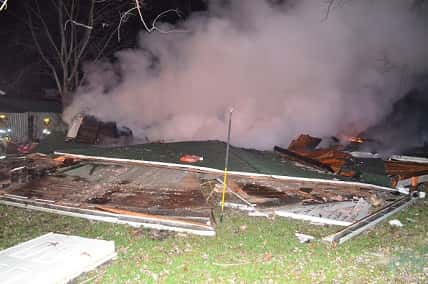 A house has exploded in Millwood, severely injuring a woman and her little girl.
Grayson County Central Dispatch alerted the Leitchfield Fire Department at 6:13 Wednesday night that a residence in the 100 block of Crawford Street had exploded.
Upon firefighters arriving on the scene, the wood frame structure was fully engulfed in flames, with most of the home already on the ground. A debris field littered the area up to 100 yards away from the home. The front door of the residence was laying in the front yard, about 50 feet from where it stood before the explosion.
Two occupants were seriously injured in the blast, as an adult female suffered burns over much of her body and her small female child suffered burns, mostly on her back, according to the woman who helped the little girl exit the house.
Both victims were transported by EMS, one to Caneyville Elementary School and the other to Twin Lakes Regional Medical Center. Both victims were airlifted from their respective locations to a Level 1 trauma center. UPDATE (9:44 p.m.): It appears the weather precluded the young girl from being airlifted. Instead, she was transported to Norton Children's Hospital by ambulance — The adult female victim was airlifted to University of Louisville Hospital.
At this time, officials say a propane leak is the likely cause of the explosion, but further investigation is needed to determine the source with certainty. Leitchfield Utilities said they have no gas lines running in the area.
The explosion was felt as far away as Bloomington Road (according to a firefighter who lives in the area), about 10 miles from the site of the blast.
LFD Chief Tim Duvall said the state Fire Marshall's Office has been notified and could possibly be on the scene as soon as Wednesday night. LFD personnel will likely remain at the former residence well into Wednesday evening.
The Grayson County Sheriff's Office arrived on scene and provided traffic control.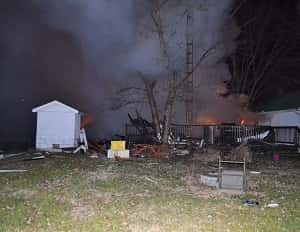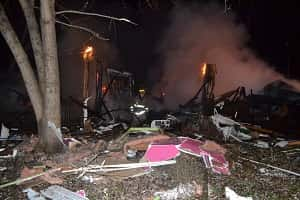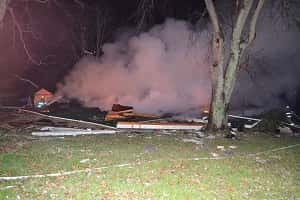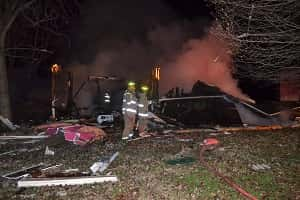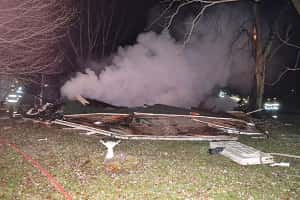 By Ken Howlett, News Director
Contact Ken at ken@k105.com