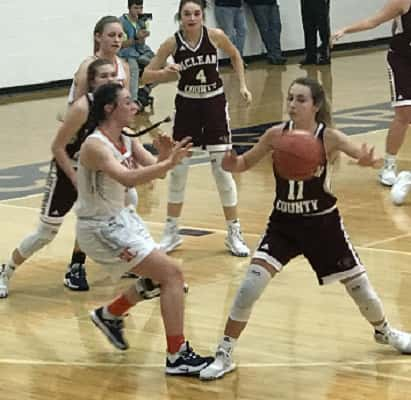 McLean County's Lady Cougars came into the Cougar Den on Monday, and went home with a 57-52 victory over Grayson County's Lady Cougars.
McLean (13-8) scored the first six points of the contest, and led by five, 18-13 at the start of the second period.
An old-fashioned three point play by McLean's Makena Rush-Owen at the 5:21 mark gave her team their largest lead of the night, nine points at 24-15. Grayson County (17-7) responded with a 12-2 run to take a one-point lead, 27-26 with 3:16 left.
McLean then scored the next five points to retake the lead, 31-27. They led by one point, 32-31 at the half.
McLean led by as many as four points in the third quarter, 41-37 at the 4:13 mark, but maintained that one-point lead, 42-41 at the start of the fourth period.
Aryssa Riggs hit two free throws at the start of the fourth that gave the Lady Cougars their last lead of the night, 43-42. McLean County answered with seven straight points to lead by six points, 49-43 with 5:54 left to play.
Rachael Snyder then scored back-to-back baskets for Grayson County to make it a two-point game, but on the ensuing McLean possession, Snyder fouled out of the game and the Grayson County momentum seemed to die. McLean scored the next six points and led by eight, 55-47, and Grayson was never closer than five the rest of the way.
Junior Bailei Walker led McLean with 19 points, while Rush-Owen added 16.
Kenzie Renfrow led the Lady Cougars with 20 points, and she added seven rebounds, two assists and four steals. The Snyder sisters, Rachael and Bailey scored eight points apiece, and Rachael added seven boards.
Riggs finished with seven points while Laura Vincent had four. Jenna Nash and Ella Robinson scored two apiece, and Raigan Cave closed out the scoring with one point.
By Don Brown, Local Sports
Reach Don at donbrown@k105.com