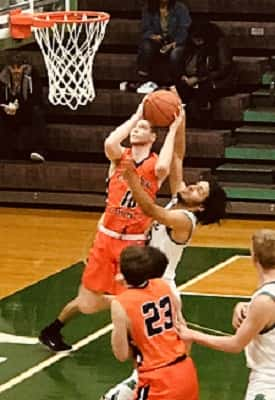 The Meade County Greenwaves closed out the first period on a 7-0 run to give them the lead, and Grayson County's Cougars had to,play catch-up the rest of the night, coming up on the short end of a 45-39 score to fall to 5-17 on the season.
With the score tied at 9-9 with 3:27 left in the first period following a 15-footer by Nolan Shartzer, the Greenwaves scored the last seven points of the period and led 16-9 heading into the second period.
A lay-in by Meade's Mitchell Dozier at the 7:09 mark extended the Greenwaves' run to nine straight and gave them a nine-point lead, 18-9. Meade County led by seven points, 25-18 at the half.
A three-pointer by Shartzer with 1:11 left in the third quarter cut the Cougars' deficit to just three points, but Meade led by five, 34-29 heading into the final period of play.
A 9-4 Cougar run opening up the fourth quarter, capped off by a Shartzer lay-in at the 3:03 mark, tied the score at 38-38 and gave the Cougars hope, but they would only score one more point the rest of the game. Meade closed by outscoring the Cougars 7-1 to win going away,.
Dozier led the Greenwaves with 16 points, while Casey Turner added 14.
Shartzer led all scorers in the game with 23 points and he led the team on the glass with seven rebounds. Keegan Sharp and Hunter Tomes both scored six points and Tomes added five rebounds. Chandler McCrady closed out the scoring with four points.
By Don Brown, Local Sports
Reach Don at donbrown@k105.com