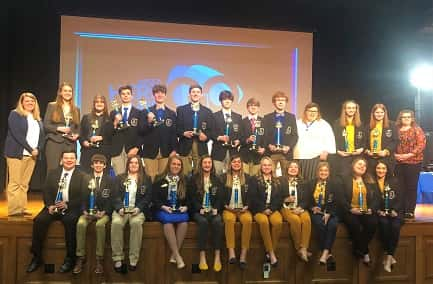 Grayson County High School's DECA program continues to excel as nearly two dozen high school DECA students have qualified for state competition.
At the recently held DECA regional competition, all 23 GCHS DECA students who participated also qualified for state competition, which takes place in March.
Students qualifying for state were:
First place finishers — Colton Glenn (Business Services), Sophia Elmore (Integrated Marketing Campaign/Event); Luke Milliner (Principles of Business Management and Administration); Katie Dudgeon (Hospitality and Tourism Professional Selling); Isaace Butler (Professional Selling); Madelynn Henning, Emma Pierce and Shelby Gary (Business Solutions); Bailey Collins (Career Development); Emma Finch and Eli Helm (Community Awareness); Emily Cooley and Zoe Coles (Financial Literacy Promotion Project); Evan Hayse and Max Evans (Sales Project); Camden Chitwood and Tanner Rivera (Sports and Entertainment Team).
Second place finishers: Dawson Gorby (Food Marketing); Kaylee House and Sam Wendt (Community Giving Project).
Third place finishers: Anna Spalding and Shay Snider (Marketing Management Team).
Fourth place finisher: Kaylee Embry (Human Resources Management).
By Ken Howlett, News Director, and Grayson County Schools
Contact Ken at ken@k105.com