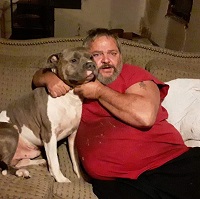 Eric "Bubble" Embry, age 50 of Leitchfield, passed away, Saturday February 8th 2020 at his residence. He was born February 18th 1969 in Louisville, KY, the son of Wendell & Hazel Thomas Embry.
He is survived by three sisters, Wanda Embry, Michelle Cardwell, & Geneva Orr, two brothers, John Young & Robin Embry, his step-mother, Mildred Embry, his good friend, Wayne Dockery, several nieces & nephews, and five great nephews.
He was preceded in death by his parents.
Funeral services will be held at 2:00 p.m., Thursday (February 13th) at the Caneyville Memorial Chapel. Burial will be in the Stevenson-Logsdon Cemetery in Fall of Rough. Visitation will be held from 10:00 a.m. until service time on Thursday at the funeral home.
Caneyville Memorial Chapel is both honored and privileged to be entrusted with the care of Mr. Embry.  Share your message of condolence with the family of Eric Embry at www.caneyvillememorial.com.