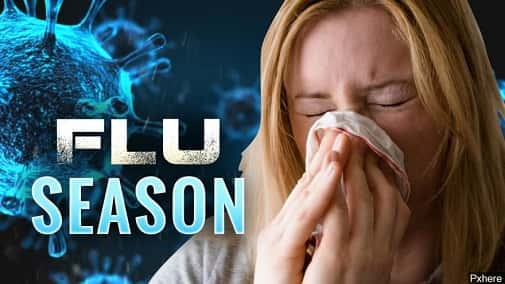 The number of flu cases in Kentucky continues to rise.
The Kentucky Department for Public Health says new flu cases reported between January 26 and February 1 topped 1,800. The week prior, over 1,700 news flu cases were reported.
As of the last week of January, there have been 41 confirmed flu deaths in Kentucky, up eight from the previous week. Three of the victims were under the age of 18, officials said.
The Centers for Disease Control recommends taking the following steps to avoid contracting and spreading the flu:
Get vaccinated — Vaccination is the most important way to prevent the spread of the flu.
Stay at home if you are sick — Workers who have a fever and respiratory symptoms stay at home until 24 hours after their fever ends without the use of medication. Not everyone who has the flu will have a fever. Other symptoms could include a runny nose, body aches, headache, tiredness, diarrhea, or vomiting
Wash your hands frequently with soap and water for 20 seconds; use an alcohol-based hand rub if soap and water are not available.
Avoid touching your nose, mouth, and eyes.
Cover your coughs and sneezes with a tissue, or cough and sneeze into your upper sleeve(s). Throw tissues into a "no-touch" wastebasket.
Clean your hands after coughing, sneezing, or blowing your nose.
Keep frequently touched common surfaces (e.g., telephones, computer equipment, etc.) clean.
Try not to use a coworker's phone, desk, office, computer, or other work tools and equipment. If you must use a coworker's equipment, consider cleaning it first with a disinfectant.
Avoid shaking hands or coming in close contact with coworkers and others who may be ill.
Stay in shape. Eat a healthy diet. Get plenty of rest, exercise, and relaxation.
Speak with your doctor and find out if you are in a high risk category for seasonal flu (e.g., elderly, pregnant women, small children, persons with asthma, etc.).
Participate in any training offered by your employer. Make sure that you understand how to stay healthy at work.
By Ken Howlett, News Director
Contact Ken at ken@k105.com