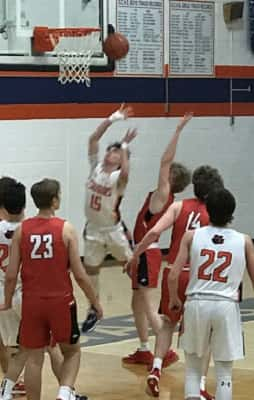 The Bullitt East Chargers came into the Cougar Den on Tuesday, and went home with a 59-44 win over the Cougars.
The loss was the Cougars' seventh straight and 13th of their last 14 games. Grayson County is now 5-19 on the season.
The game was tied once in the first period at 5-5 following two free throws by Hunter Tomes at the 5:10 mark. The Chargers then scored the next six points and never trailed afterward. They led by four, 14-10 at the start of the second period.
A lay-up by River Blanton with 4:25 left in the second pulled the Cougars to within two points of the lead, 17-15, but the Chargers responded with an 8-2 run to push their lead back up to eight points, 25-17 with 2:27 left.  They led by six points, 31-25 at the half.
When the Chargers opened the third quarter on a 7-0 run to increase their lead to 13 points, 38-25, head coach Travis Johnston called a timeout with 3:40 left in the period.
Johnston was whistled for a technical foul with 34 seconds left in the period, and Zak Perdew hit both shots to give the Chargers a 15-point lead, 46-31 as the period ended.
A three-pointer by East's Will Blanford at the 5:37 mark gave the Chargers their largest lead of the night, 18 points at 51-33. The Cougars responded by running off seven straight points, capped off by a Keegan Sharp three-pointer with 3:49 left to play that pulled the Cougars to within 11 points, 51-40. The Chargers then closed out the game on an 8-4 run to win going away.
The Chargers put 11 men in the scoring column, led by Perdew's game-high 17 points. Josiah Morris joined Perdew in double figures with 10 points.
The Cougars, who played this game without their leading scorer, Nolan Shartzer, who suffered an ankle injury in Saturday's loss to Henderson County, were led by sophomore Chandler McCrady with 12 points. Tomes was in double figures with 10 points.
Keegan Sharp scored eight points, while Nolan Hornbeck and Jaxon Higdon had three apiece. Four players, Blanton, Chase Johnson, Dillon Horn, and Mason Galloway completed the scoring with two ,points each.
By Don Brown, Local Sports
Reach Don at donbrown@k105.com