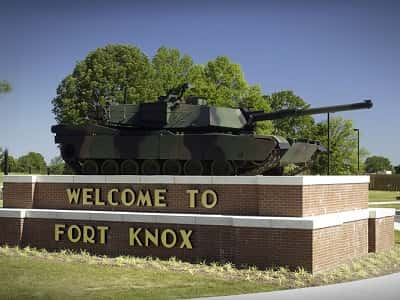 The Department of the Army announced Tuesday the activation of an additional corps headquarters, called Fifth Corps (V Corps), which will be located at Fort Knox, Kentucky.
The V Corps Headquarters will consist of approximately 635 soldiers, of which approximately 200 will support an operational command post in Europe on a rotational basis. The Corps Headquarters is projected to be operational by the fall of 2020.
"Combatant commanders know they can count on highly-trained and ready Army forces as they implement the National Defense Strategy around the world," said Gen. James McConville, Chief of Staff of the Army. "The activation of an additional Corps headquarters provides the needed level of command and control focused on synchronizing U.S. Army, allied, and partner nation tactical formations operating in Europe. It will enhance U.S. Army Europe and U.S. European Command as they work alongside allies and partners to promote regional stability and security."
The establishment of V Corps enables the Army to fulfill requirements of the National Defense Strategy. It also supports a U.S. European Command request for increased command and control capability, and will support U.S. interests, allies and partners in the region.
Benning, GA and Fort Drum, N.Y., were the other finalists for the headquarters.
Senate Majority Leader Mitch McConnell, Sen. Rand Paul and Congressman Brett Guthrie said in a joint press conference they had together asked the Army to choose Fort Knox.
"Fort Knox has proven itself as a leader in our nation's armed forces time and again, and I'm delighted to announce Secretary McCarthy and General McConville answered my call to station V Corps headquarters in Kentucky," McConnell said in the release. "As the Army continues modernizing its force structure to counter evolving global threats, Fort Knox is best choice to meet our urgent national defense needs. With its unmatched level of community support, Fort Knox will offer V Corps a warm welcome."
The V Corps' history dates back to 1918, when the unit was activated during World War I during combat in France. Later, it took part in the World War II D-Day invasion and liberation of Europe.
Currently, the Army has three corps headquarters: I Corps, located at Joint Base Lewis- McChord, Washington; III Corps, located at Fort Hood, Texas; and XVIII Airborne Corps, located at Fort Bragg, North Carolina. V Corps will be the Army's fourth headquarters.
By Kentucky Today