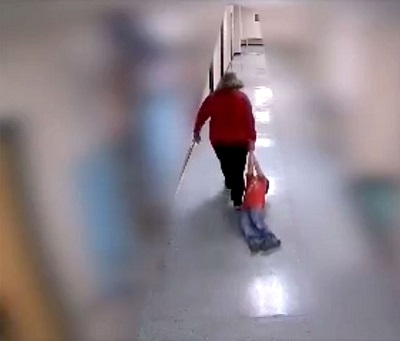 The teacher caught on surveillance video dragging a nine-year-old autistic boy by his wrists through the halls of an elementary school has been sentenced in the case, and has shown no remorse for her actions.
Trina Adams pled guilty on Wednesday to fourth-degree assault in Greenup County. She was sentenced to 120 days of home confinement and two-years probation. The sentence was reached through mediation, according to the Ashland Daily Independent. She must also forfeit her teaching certificate for two years and is prohibited from having contact with any students.
The two-year surrender of her teaching certificate is the limit for cases in district court, County Attorney Mike Wilson told the newspaper. However, the sentence makes it unlikely Abrams will be able to secure another teaching job in Kentucky, he added.
The plea agreement comes more than two years after Abrams, then a resource teacher, dragged the third grade student through the halls of Wurtland Elementary School in October 2018. The incident was captured by surveillance cameras and widely broadcast on social media and in news coverage.
Surprisingly, Adams has reportedly shown no remorse for her crime, as detailed in the following excerpt from the newspaper's coverage of her sentencing:
The mother of the boy, who participated in the mediation and agreed to its terms, said she is relieved the case is resolved but said she is disappointed Abrams does not appear sorry for the incident.
"She still has not shown remorse. She still has not apologized," said Angel Nelson, whose son Alan Jackson was a third-grader at the time (Nelson agreed to use her son's name and said it might draw attention to the needs of autistic children).
Abrams said after her appearance the sentence was "above and beyond" what she deserved. "I feel the prosecutor was just out to get votes. I feel it was political," she said.
(Headline photo: Still photo of surveillance video showing Adams dragging the victim through the halls of the school)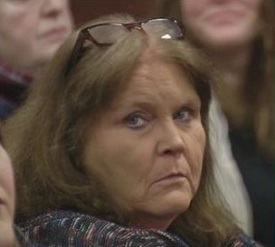 By Ken Howlett, News Director
Contact Ken at ken@k105.com