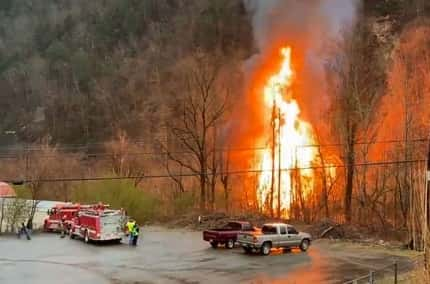 A large mud and rock slide in eastern Kentucky derailed a CSX train, starting a fire and spilling chemicals into a river.
Thursday morning at approximately 7:00, Kentucky State Police was notified of a train derailment on the banks of the Big Sandy River involving a southbound CSX train in the Draffin community of Pike County. The derailment briefly trapped two crew members and caused a chemical leak into the river, according to police.
The two trapped crew members eventually escaped the train and were rescued by firefighters on the banks of the Big Sandy.
CSX said the train had 96 cars carrying ethanol and two cars loaded with rocks. Five rail cars derailed, four ethanol tanks and one other car, along with the locomotive.
The blaze was still raging nearly four hours after the derailment. Kentucky State Police spokesman William Petry said authorities were not sure whether diesel fuel or ethanol was fueling the blaze, but authorities decided to let the fire burn itself out since it did not pose a public safety threat.
The mud and rock slide were caused by heavy rain the area received over the last week, as Pike County was drenched with three to four inches of rainfall last week and another inch over the last 48 hours, according to the National Weather Service.
The National Transportation Safety Board said it was sending team to investigate the derailment.
(Headline photo courtesy of ABCNews.com)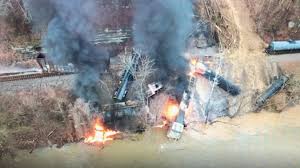 By Ken Howlett, News Director
Contact Ken at ken@k105.com