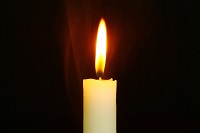 Sarah Clarice Chamberlain, age 71, of Clarkson, KY, passed away Tuesday, (March 10, 2020) at the Twin Lakes Regional Medical Center in Leitchfield.
She was born on March 18, 1948 in Fresno, California, the daughter of the late Woodrow Wilson and Lena Maxine Rhea Shepherd.
She worked as a real estate broker in Red Bluff, CA. who enjoyed horseback riding, sewing, camping and going on trips in their motor home.
She is survived by her husband, Timothy Charles Chamberlain of Clarkson; children, John David Hollaway, Mark Allen Bryer, Stevana Hill Sedita and Kevin Chamberlain; nephew, Gary Blaylock, siblings, Sharon Maxine Spurgeon (Don Charles), Susan Dee Smith (David); and grandchildren, Heather Michelle Hollaway, John Donivan Hollaway, Emily Bryer, Bree Bryer, Shylie Brynn Sedita, Raygina Marie Chamberlain, Jonathan Chamberlain and Patrick Chamberlain.
She was preceded in death by her parents.
In keeping with her wishes cremation was chosen and a memorial service will be held on Tuesday (March 17, 2020) at 1:00 PM at the Dermitt Funeral Home.
The family will be greeting friends beginning at 12:00 PM (noon) on Tuesday until time of services.