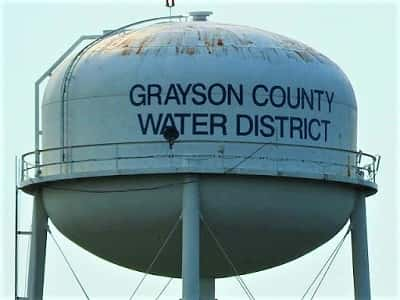 Kevin Shaw, District Manager of the Grayson County Water District, has offered information to the public on how the water district is handling the COVID-19 pandemic and how COVID-19 concerns are limiting the interaction of water district employees with customers. Shaw also notates emergency operational procedures that will be implemented if the virus continues to spread.
The entirety of Shaw's statement may be found below:
The coronavirus (COVID-19) is the buzz in the news. While we do not want to cause a panic, we do want our customers and employees to be informed and cautious.
At present there are no confirmed cases in Grayson County or our surrounding counties. We do believe that we must attack this virus proactively rather than wait and be reactive. In doing so it is very important for our employees and our customers to limit personal contact with the general public if it can be so arranged.
This is work in progress as we all learn to handle a situation of this nature since it is new territory to most us. The rules seem to need to be adjusted almost on a daily or hourly basis. We have approached this from a three-step standpoint.
While personal service has always been a pivotal part of our organization it is with much regret that we be very careful about personal contact now with our customers through theses trying times. The continued good health of our staff and all of the Grayson County residents is paramount.
Effective immediately, the following precautions and procedures have been implemented. 
Emergency Operational Procedure: 
Step I: No confirmed local cases of COVID-19
We have asked employees to not make any person to person contact if at all possible, while out in the field until further notice.
We have made possible the segregation/isolation of water district personnel to help minimize effects of a confirmed case within the water district. Including but not limited to personnel being limited to specific working areas, adjusted work schedules, and/or personnel working from home.
A barrier has also been installed in our office cashier area to help limit exposure from the office staff to the customer.
No visitors will be accepted at the Water Treatment Plant until further notice.
Step II: Confirmed case of COVID-19 within Grayson County or any county bordering Grayson County

The office doors will be closed to all outside contacts.
All business will be conducted at the drive-thru window.
Any non-essential field work will be suspended.
Step III: A county, state, or national quarantine for COVID-19 has been issued
The drive-thru window will only be used for any emergency business.
Only AMR meter reading and emergency work will be performed during the quarantine period.
Please bear with us and the inconveniences as we all maneuver through this. We would also ask for those that commonly come in our office to pay their bill or conduct business, that while we normally welcome your visits, would you please consider using one of our many other options to pay. All of our convivence service do come to you at no extra cost.
Auto draft
USPS
Online payments at our web site
Pay by phone
We are in a unique situation today in our country, but the safeguards we have developed are to assure the same reliable services that you are customarily used to getting continues.
We will continue updates as the situation changes. Keep up with us at www.graysonwater.com.
(Photo courtesy of daletravis.com)
By Ken Howlett, News Director
Contact Ken at ken@k105.com