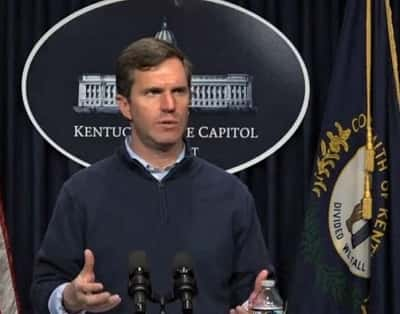 At his Monday afternoon briefing, Gov. Andy Beshear said Kentucky's confirmed coronavirus (COVID-19) cases have risen by 21 victims.
Beshear said there are now 124 cases of COVID-19 in the state, with the new cases originating in Allen, Breathitt, Daviess, Fayette, Harrison, Jefferson, Scott, Simpson, and Warren counties. The 124 cases now confirmed nearly doubles the 63 coronavirus cases reported by late Friday night.
A fourth Kentuckian has fallen victim to the virus, as well, as an 82-year-old Fayette County woman with underlying health issues succumbed to COVID-19.  The other three victims were a 67-year-old Anderson County, a 64-year-old Jefferson County man, and an elderly Bourbon County man.
There have been three juveniles diagnosed with the virus, while six victims are in their 20s. Eight victims are in their 30s and 13 in their 40s.
Kentucky's most populous county, Jefferson County, continues to lead the state in confirmed cases of COVID-19 with 41. Fayette County has the next most with 16, while Harrison County, where the state's initial COVID-19 diagnosis was made, has the third most cases with 10.
At Monday's briefing, Public Health Commissioner Dr. Steven Stack said although the number of COVID-19 cases in the state seem small, we must remain "vigilant" and continue to take steps to prevent the exponential spread of the virus, adding that one person can potentially infect 1,000 people over a 12 day period.
Speaking about the nationwide shortage of essential personal protective equipment, Beshear said Kentucky is bidding against other states and the federal government to obtain the necessary equipment to alleviate a "critical" shortage.
"We're fighting for it every single day," Beshear said.
Clarifying an earlier announcement on the closure of non-essential businesses, Beshear said if an automobile dealership can sell a vehicle completely over the phone, then the business may remain open. He also said internet car lots may remain open. The governor noted that computer repair stores may remain open if they follow social distancing guidelines.
Beshear announced a phone number — 1-833-597-2337 — to report a business believed to be conducting itself in a dangerous manner by not practicing mandated social distancing. The hotline will be staffed daily from 7:30 a.m. to 9:00 p.m.
The number for the state's COVID-19 hotline is 1-800-722-5725.
Find the state's COVID-19 website by clicking here.
By Ken Howlett, News Director
Contact Ken at ken@k105.com