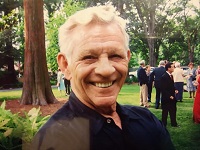 BROWNSVILLE, Ky.- David Burks Peebles, 87, of Cub Run passed away March 16, 2020 at Springview Care and Rehab in Leitchfield.
The Jefferson County native was an Air Force veteran and a skilled craftsman at dry wall and woodwork. He owned his own business in Morgan Hill, California for many years. He loved animals and nature and fed the birds every morning that he was able. He built his cabin tree house in Cub Run and enjoyed the trees and Bacon Creek. He also loved the mountains and forestry. He wanted to be remembered for his love of Creation. His favorite song was "The Animal Fair" by Tex Ritter.
No public services are scheduled. Gravil Funeral Home is in charge of arrangements.
He was preceded in death by his parents, Floyd (Bud) Peebles and Mary Wolney; his wife, Mary Peebles; his brothers, Don and Buddy Peebles and Bobby Wolney; a sister, Agnes Payton; two daughters, Norma Veech and Sharon Lees and one step daughter, Linda Poteet.
Surviving are a sister, Ruth Clark; three daughters, Cynthia White, Belinda "Taffy" Finn and Patricia Adams; two sons, David Wayne Peebles and Dave Wild; three step children, Debbie, Clint and Bobby Poteet; 17 grandchildren and 12 great grandchildren. There were too many nieces and nephews to mention but know that you are all loved.