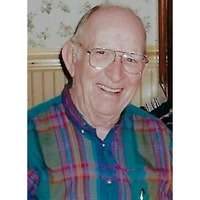 Edwin Davis "Pete" Lanford died March 20, 2020 at the BeeHive Assisted Living in Leitchfield KY at 95 years old.
God broke the mold after Pete was born to the late Inman Ernest Lanford and the late Mary Ester (Jones) Lanford in Jasper, AL on February 15, 1925. Pete's half-brother was the late Zack Ballenger. Pete's father died when Pete was a 3-month-old baby. Raised during the depression shaped Pete's formative years and resulted in a lifetime of frugality.
Pete's uncle, the late Calvin W Lanford, was Pete's role model. During Pete's teenage years, he went to live with Calvin and his late wife, Evelyn, in Birmingham, AL. While in High School, Pete met the love of his life, and future wife, the late Betty Sue (Smith) Lanford. His children and grandchildren remember Pete's undying love for Betty Sue. The US Army called Pete to serve in the South Pacific during World War II. After the war, Pete attended the University of Alabama, where he became a lifetime Alabama football fan.
Once married June 25, 1949, Betty Sue and Pete lived in Birmingham, Alabama; Atlanta, GA; and finally settled in Tampa, FL. He often square danced with Betty Sue. Together, they raised their twin children.
Pete enjoyed a long career as an industrial engineer with Gates Rubber Company until his retirement at age 62. When enjoying time with his family he was always a good sport while playing games. Pete loved to share that he was retired more years than he worked.
Pete's second love was travel. He enjoyed traveling with his wife, children, grandchildren, and friend, Rosemary Kuga. Pete's thirst for novel experiences seemed endless, as he traveled to Alaska multiple times, and national parks across the United States, often visiting family and friends along the way. His favorite travel spot was the Grand Canyon, in Arizona, where Pete often camped in his RV or fifth-wheel. Pete is remembered by his family as a kind and gentle man who whistled often, and was a friend to everyone.
Pete is survived by 2 children, Dave (Heidi) Lanford of San Marcos, TX and Donna (Jerry) Priest of Leitchfield KY; nieces Becky (David) Bradley of Houston, TX and Pegi (Ray) Parry of Woodland Park, CO and 6 grandchildren and step-grandchildren: Brett (Jessica) Lanford of Oakland CA; Cherie Priest ( Aric Annear) of Seattle, WA ; Scott (Elizabeth) Lanford of San Antonia TX; Becky (Dan) Santavicca of Jacksonville FL; Alex Priest( Miranda Gale) of Marfa TX; and Ariel Weddington of Mt. Pleasant SC. Pete is also survived by 6 great-grandchildren.
A memorial service will be held at Leitchfield United Methodist Church in Leitchfield KY at a date to be announced. Interment will be in Tampa FL at a future date.