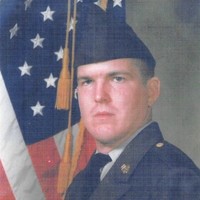 Steven Brian Schultz, Sr. age 60, of Olaton, KY, passed away Monday, (March 23, 2020) at his home.
He was born on February 16, 1960 in Louisville, KY, the son of the late Ervin Jr. and Janice Anderson Schultz.
He was a 10 ½ years veteran of the United States Army. He served in Desert Storm as a crew member on the M1A1 Heavy Abrams tank. He was a long-haul truck driver for Stericycle in Beaver Dam, KY and was a member of Lilac Road Church of Christ.
He is survived by his wife of 21 years, Kelly E. Schultz; two children, Steven Brian Schultz Jr. (Amy) of Rockport, IN, Stephen Michael Schultz (Yurisa) of Caddo Mills, TX; his mother, Janice Y. Anderson Schultz of Hardinsburg; two sisters, Pam Hayes (Cliff) of Eastview, KY and Patty Hill (Vernon) of Hardinsburg, KY; one brother, Doug Schultz of Bowling Green, KY; five grandchildren and two great-grandchildren. Several nieces and nephews also survive.
He was preceded in death by his father, Ervin Schultz, Jr.
A private family funeral service and private family burial will be held under the direction of the Dermitt Funeral Home.
Online condolences can be made in the guestbook on our website at www.dermittfuneralhome.com.