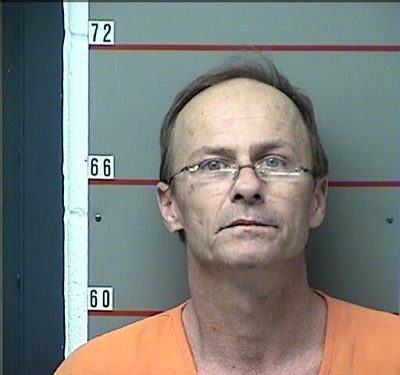 A Grayson County man wanted by law enforcement for threatening police and others has been arrested by the Clarkson and Leitchfield Police Departments after a short pursuit.
For much of the day Friday, Leitchfield police and the Grayson County Sheriff's Office had been searching for 48-year-old John McGinnis after authorities received information that he was in the area.
McGinnis was wanted by the Ohio County Sheriff's Office for making threats against police and for threatening a participant in the legal process. A little more than two weeks ago, Ohio County Sheriff Tracy Beatty issued an alert on McGinnis, saying he was wanted, likely armed and for citizens to not approach him.
Then, Friday night at approximately 6:30, Clarkson Officer Blake Elmore spotted McGinnis driving a BMW on North Patterson Street. McGinnis drove into the parking lot of the Masonic Lodge and as Elmore activated his emergency lights, McGinnis fled in his vehicle.
As Elmore gave chase, LPD officers and deputies with the sheriff's office converged on Clarkson.
McGinnis fled Elmore east on Old Leitchfield Road, toward the Clarkson Ballpark. McGinnis, thinking incorrectly that a driveway to an abandoned property between Elizabethtown Road and the ballpark was Old Leitchfield Road, drove down the driveway before turning and driving through the front yard of the abandoned home, where the vehicle became stuck in the mud.
LPD Officer Ian Renfrow arrived at about the time McGinnis exited the car and fled on foot toward Elizabethtown Road. Elmore and Renfrow gave chase and caught up with the suspect in the middle of the road, directly in front of Clarkson Baptist Church.
Once removed from the roadway, McGinnis continued to resist officers and motioned as if he was reaching into his waistband, according to police, when Renfrow activated his taser, bringing McGinnis into compliance.
He was arrested and charged with DUI, first-degree wanton endangerment (police officer), two counts of fleeing or evading police (in a motor vehicle and on foot), and resisting arrest. He was also served with multiple warrants out of Ohio County.
He was lodged in the Grayson County Detention Center.
Assisting at the scene were LPD Sgt. Robert Jackson and Officer Jesse Townsend along with Grayson County Sheriff's Office Sgt. Fred Norder and Deputies Mark Johnson, Andy Vincent and Jason Luedke.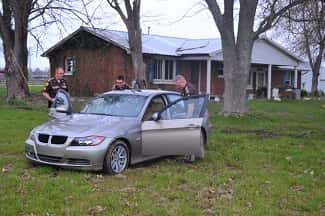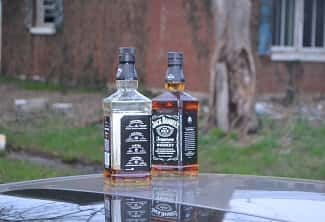 By Ken Howlett, News Director
Contact Ken at ken@k105.com