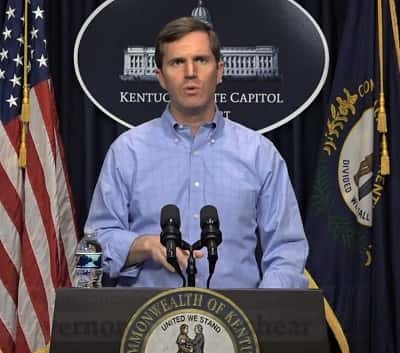 Kentucky's confirmed cases of coronavirus (COVID-19) surpassed 400 between Saturday and Sunday afternoon.
Gov. Andy Beshear said at his daily briefing Sunday afternoon that 45 cases of COVID-19 had been diagnosed over the previous 24 hours, increasing the state's confirmed cases of the virus to 439. No new deaths were reported, though, leaving Kentucky's COVID-19 fatalities at nine.
Jefferson County leads the state with 115 coronavirus cases, while Fayette County is second with 82. Next in line are Daviess County (26) and Kenton County (18).
On Friday, nearby Hopkins County (pop. approx. 46,000) had three COVID-19 cases but in the last two days the county's confirmed cases has grown to 17. One death in Hopkins County, an elderly person with multiple underlying health issues, is blamed on the virus.
Beshear pressed Kentuckians on Sunday to remain vigilant about social distancing amid reports of crowding at golf courses, basketball courts and home improvement stores to stop the spread of the virus and reduce the risk to others.
The governor said people and businesses must do better to stop the spread of COVID-19 or risk undoing the sacrifices and efforts of everyone else.
"We can't allow any crowds in Kentucky right now," he said. "Where social distancing cannot be followed, we are going to have to shut golf courses and other places down."
"We're at crunch time. The next two to three weeks are pivotal," said Dr. Steven Stack, commissioner of the Department for Public Health. He advised people to follow the guidance from Beshear and public health officials.
"Assume everybody you see has the coronavirus," Dr. Stack said. "If you keep the six to ten feet between and keep the social distance, you'll be OK."
Beshear said the state's health care resources – 18,500 hospital beds, 1,300 ICU beds and 1,352 ventilators – will be further stretched if people do not do their part to control the spread and cause a more severe outbreak. He said his administration is doing all it can to secure additional resources.
Team Kentucky Fund
Beshear, along with the Kentucky Public Protection Cabinet, took executive action to establish Team Kentucky Fund, a GoFundMe-style online platform to provide financial help to Kentuckians whose employment is affected by the coronavirus.
The governor has challenged those who are able to help to make a tax-deductible donation to the fund. University of Kentucky basketball Coach John Calipari recorded a video encouraging people to help fellow Kentuckians and donate to the Team Kentucky Fund.
Reporting hotline
The COVID-19 Reporting Hotline (833-597-2337) is for reporting non-compliance with coronavirus mandates. Labor Cabinet personnel will monitor the hotline between 7:30 a.m. and 9 p.m. ET. A new website where Kentuckians can visit to make online complaints is kysafer.ky.gov.
CDC
The Centers for Disease Control and Prevention encourages people to follow these steps to prevent illness. Kentuckians who want advice may call the state hotline at 800-722-5725 or call their local health care provider.
By Ken Howlett, News Director
Contact Ken at ken@k105.com