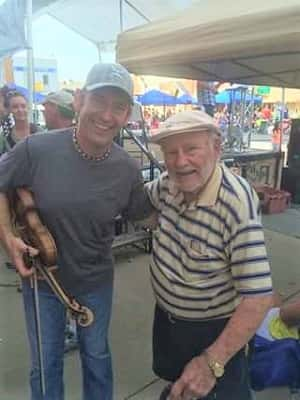 A hero and distinguished member of the Greatest Generation is not all the Grayson County community lost on Friday with the death of 96-year-old William Dean Smith.
With the passing of Mr. Smith, Grayson County's first fatal victim of coronavirus (COVID-19), the community also lost a mentor and life-shaping force whose influence was felt among a cross-section of people.
Mr. Smith served in both World War II, serving in the Pacific Theater for two-and-a-half years of a 40-month term of service, and the Korean War. He distinguished himself by receiving eight military decorations for his role in fighting in the Southern Philippines, New Guinea and other combat zones.
As a member of the Air Force's 36th Fighter Squadron (at that time part of the U.S. Army), Mr. Smith was involved in a shipwreck in December 1944 off the coast of the Philippines and languished in the water for over two hours before being rescued.
He was discharged from service in August 1946 with the rank of First Sergeant. After helping free the world of a crazed Nazi dictator in WW II and halting the advancement of communism in the Korean War, Mr. Smith returned to Grayson County and taught, guided and mentored hundreds, perhaps thousands of young minds as a music teacher.
"As a young man that was all about anything to do with music, I viewed Mr. Smith as 'music,'" said Harold Miller, an executive with Warren RECC, Leitchfield City Councilman and musician. "Some of my earliest influences in music hearken back to Mr. Smith. When I joined band in elementary school he would bring us one at a time up to the piano, play a note and we would sing the note back to him. He had a formula in his mind and promptly told me that I would play trombone."
This revelation was somewhat surprising and perplexing to a young Miller, but Mr. Smith's ear for music won the day and led his young pupil to perform music at the collegiate level.
"I really wanted to play trumpet," Miller said, "but Mr. Smith insisted. His formula played true, as I was able to play trombone as a member of the WKU Big Red Band."
Even as Mr. Smith advanced in years, he remained a regular attendee at community events despite having moments of difficulty getting around.
"As an adult, I enjoyed seeing Mr. Smith many places in the community," Miller said. "He was an avid supporter of the Twin Lakes National Fiddler Championship from its beginning. Many days he braved the 90-plus degree heat to come out and support music in his community. Thinking back, I realize that even after all the years I had known him, his love for the arts never waned. William Dean Smith will always be a significant part of the rich musical heritage of Grayson County."
Jimmy Mattingly, perhaps the world's best fiddle player, and member of country music star Garth Brooks' band, remembered Mr. Smith fondly as he reminisced about talking with him at a recent Twin Lakes National Fiddler Championship event in Leitchfield.
"It was a sad day in my hometown of Leitchfield (as) we lost an amazing man, Mr. William Dean Smith, to Covid-19," Mattingly wrote. "Mr. Smith was a great music educator for many years in our hometown.
A few years ago, I went back home to attend the Twin Lakes Fiddling Festival. While there, someone came and told me that somebody wanted to say hi to me. I went over and it was Mr. Smith. I visited with him for a while and got a picture with him. He was really sweet to me … God bless Mr. Smith's family; prayers for them. Rest in Peace Mr. Smith. Thanks for your service."
Upon his passing, Grayson County Sheriff Norman Chaffins honored Mr. Smith with a poignant story on the impact Mr. Smith had on him as a young man, and at a time when Chaffins was, in his words, "an in-betweener."
"Some of you may not know this, but early on in my career I conducted a traffic stop on Mr. William Dean Smith. He clearly ran the red light in front of Fastway (now FiveStar) at US 62 and S. Main Street in Leitchfield. I will tell you that it was a defining moment in my law enforcement career. Here is why:
"Rewind 38 years, I was an 8th grader at GCMS. For those of you that know me, I was not a "bad" kid. Neither was I a "good" kid. I was an in-betweener. I was one of those kids that would push the envelope to see how far I could go. Mainly, just talking and trying to make people laugh, often at my teacher's expense.
"Mr. Smith was one of those teachers. He was my chorus teacher in 8th grade. I was the kid in the back that would throw a piece of paper, tap the head of the student in front of me and turn away, or just be generally disruptive while Mr. Smith was conducting class. I rarely got caught because Mr. Smith just wanted to instruct his chorus class, but deep down I knew that he knew it was me.
"On one particular weekend, I had gone to the mall in E-town and purchased a pile of fake poop with money I earned for mowing. All I could think about was how I was going to deploy it in Mr. Smith's classroom during chorus. It was all about timing that would make the most students laugh. Well, I waited to deploy it while Mr. Smith had stepped out of the class. That day, we were getting ready for a program at WKU. When he returned to his spot at the podium, he noticed the pile. He was startled and the students roared with laughter. Mission accomplished!! Everyone laughed except Mr. Smith. He immediately turned to me and instructed me to the hallway.
"I will never forget the words he told me that day before he swung that paddle at least five times on my behind. He told me that 'one day our paths would cross again.' He said that when they did, he hoped I would use better judgement that what I did that day. He told me that he knew that it was me being disruptive on other occasions and that accountability needed to be established. He also told me that he liked me and that I was better than the way I was acting.
"He said that after he paddles me that I had a clean slate as long as I did not act up in his class again. He said 'I am giving you a second chance.' I asked him if I could have the second chance and him not paddle me … he smiled … and then he paddled me.
"Fast forward to about 2002, almost 20 years later. I am sitting at the traffic light beside the now FiveStar in my KSP cruiser and I see this car in the middle of the intersection waiting to turn onto US 62 west. The light turns red, then green for traffic going straight through and the car proceeds to turn left, clearly running the red light.
"Other cars are looking at me wondering if I'm gonna stop this guy. So, I do and I immediately notice that it's Mr. Smith. He does not recognize me.
"As soon as I get to the driver's door, he asked me why I stopped him, and I told him that he ran the red light. He became irate at me and even told me that I surely had better things to do than pick on an old man. This goes on for at least five minutes on the side of the road.
"I never said a word, I just let him vent. When he was finished, I gathered his license and went back to do the paperwork. I returned to his car with his license and he gave me another five minute's worth. I handed him the paper and he asked how much the fine was. I told him that there was no fine. I told him I did not write him a citation. He looked up at me with confusion and said, 'But I just let you have it and was rude to you!'
"I told him who I was and reminded him of the day I placed fake poop in front of his stand and reminded him of the words he told me that day. I told him that I deserved much more than he gave me on the traffic stop. I thanked him for holding me accountable then because if he had not, as with many of my teachers, I would NOT be where I am today.
"I remember Mr. Smith telling me in 1982 that he was giving me a second chance. I really didn't know the impact of that statement until I became an adult.
Our paths did cross again as he predicted. The second chance wasn't to make things right after he paddled me and to straighten up in his class, it was a second chance to just do the right thing in life. A second chance to be a positive impact on someone and not negative.
"God knew that one day I would have the platform to impact people. I believe He put teachers like Mr. Smith in my path, starting at a very young age, to help guide me along the way and make sure that impact was positive.
"R.I.P. Mr. William Dean Smith and thank you for your guidance. Thank you for helping me understand that sometimes people need a second chance. Thank you for holding me accountable 38 years ago. You are loved and will be sorely missed by many!"
In a community full of difference-makers, William Dean Smith stands-out. For he was more than a war hero, mentor and teacher. He personified the best that is in each of us. A rare quality, indeed.
(Headline photo: Jimmy Mattingly (l) with William Dean Smith, courtesy of Jimmy Mattingly)
By Ken Howlett, News Director
Contact Ken at ken@k105.com