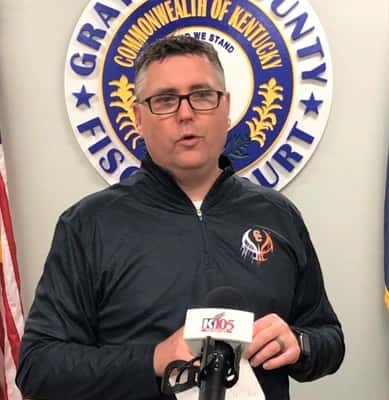 After speaking briefly at Judge-Executive Kevin Henderson's COVID-update on Tuesday afternoon, Grayson County Schools Superintendent Doug Robinson issued a one-call to parents Tuesday evening with information regarding the remaining days of instruction.
Of course, it was announced Monday that in-person instruction was cancelled for the rest of the school year, and Robinson, in his one-call, informed parents and students of additional details surrounding the remaining Non-traditional Instruction Days, including that the last day for students to perform school work is May 6:
I want to thank you for you hard work during these past few weeks. I know it has been challenging in many regards and I appreciate the can-do spirit and high level of teamwork you have shown in working together with is to continue educating your children.
Based on our call with Gov. Beshear yesterday, the district has been able to determine that the last day for students will be Wednesday, May 6. Your school has provided your student with NTI (Non-traditional Instruction) materials through May 1, and the remaining days of May 4 through 6 will be a time for makeup, catch up and review.
Keep up your strong efforts over these next couple of weeks. Your positive role modeling is something that will teach your students many lessons they will carry with them throughout their lives as they look back on this unusual year. Thank you.  
At Tuesday's briefing, Robinson said he and other district leadership, including student leaders of the senior class at Grayson County High School, would meet Tuesday night so he could receive input from students on prom and graduation issues.
Robinson added that the district's leadership hopes to have a game plan in place for those events "in the next day or two."
By Ken Howlett, News Director
Contact Ken at ken@k105.com