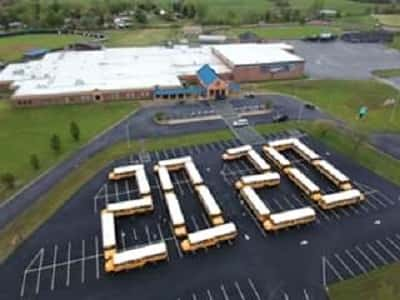 Grayson County Schools transportation team has stepped-up and honored the Grayson County High School Class of 2020 with a display in the high school parking lot.
Led by Director of Safety and Transportation Braxton Allen, the district's bus drivers organized several school buses spelling out "2020" in the parking lot.
"Hey Seniors! Your Transportation Team wishes you the very best as you head out on a NEW road," read a post on the district's Facebook page. "After 12 years of laughs, tears, wins, losses, meals, trips, championships, and ALL the wonderful memories of watching you grow into the unforgettable Class of 2020, 'thanks for riding with us!' Forever, #WeAreGCconnected"
Of course, the senior class' graduation ceremony has been postponed due to the coronavirus pandemic, but Superintendent Doug Robinson said Friday morning that he continues to meet with school leadership, both administrators and students, to help determine a course of action.
Robinson added that he's also awaiting guidance from the Kentucky Department of Education regarding graduation procedures.
By Ken Howlett, News Director
Contact Ken at ken@k105.com