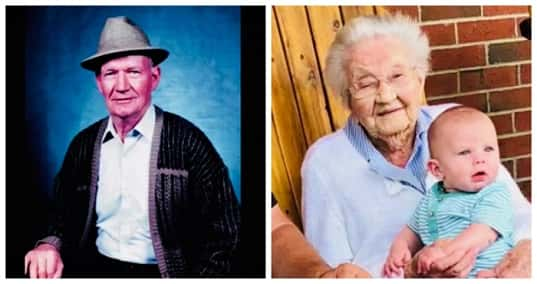 In announcing earlier this week the deaths of Grayson County residents Sam Moorman and Alma Catherine Burnett Shartzer, who battled valiantly but perished in their fight against coronavirus (COVID-19), an emotional Judge-Executive Kevin Henderson read tributes to each, written by the decedents' respective families.
If it seems the pillars of Grayson County are being robbed from the community by this deadly, vile virus, it's because they are, as Mr. Moorman and Mrs. Shartzer join 96-year-old William Dean Smith, war hero and long-time music teacher and mentor, and more recently, Ruth Lee Embry, 97, the mother of Leitchfield Mayor Rick Embry and Leitchfield Utilities Superintendent Dwight Embry, as victims of COVID-19. An unnamed 66-year-old man from Grayson County has also perished after contracting the virus.
Honoring Sam Moorman
Sam Moorman was 96-years-old; he was from Falls of Rough.
He was a farmer his entire life. A deacon at Black Lick Baptist Church for 76 years and taught Sunday School. He was a World War II veteran of the U.S. Army and was a Mason with Hardinsburg Lodge # 67. He also served on the board of Breckinridge Memorial Hospital and Southern States.
He loved to hunt arrowheads, fish and travel. He was also an avid reader.
He left behind his wife of 68 years, Nell Moorman, son Roger Moorman, daughters Marilyn Miller and JoAnn DeJarnette, and sister Delia Chesney.
He will be missed dearly as an amazing husband, dad, papa, brother, uncle, and a friend. He was just an all-around wonderful man, with Henderson adding, he was the hero of that family.
Honoring Alma Catherine Burnett Shartzer

She was 101-years-old and lived in the Duff community all her life. She was from a farming family and was the oldest of three siblings. Along with her husband Tom Shartzer they raised five children on their family farm.
She taught all of her children to work hard, to be respectful and to be proud of their family, their country, and to love the Lord. During her 101 years, she lived through some tough times, but she always held tight to her faith and to her family
She was dearly loved by her community at Duff, where she resided most of her years.
The way most will remember Mrs. Shartzer is tending to her garden. That was the place where she always shined. She was a simple woman that held strong to the end.  
She celebrated her 101st birthday in January at Grayson Nursing & Rehabilitation.
She believed and shared with her family that people preach their own funeral by the way they live their life. No truer words can be spoken. She will be truly missed.
(Alma Shartzer pictured with her great great grandson Jaden Edwards in the summer of 2019)
By Ken Howlett, News Director
Contact Ken at ken@105.com