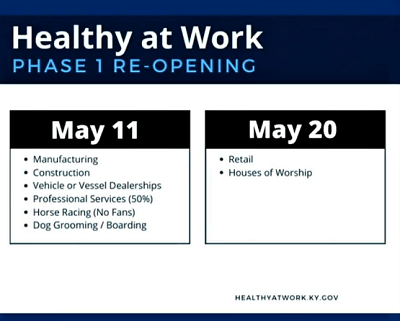 Monday begins Phase 1 of Gov. Andy Beshear's Healthy at Work reopening of businesses in Kentucky.
The initial series of companies to reopen largely include businesses with limited face-to-face contact — manufacturing, construction, automobile and boat dealerships, office-based businesses at 50 percent capacity, racetracks without fans, photography, and pet care and grooming.
Beshear has released 10 rules that all businesses must follow, including wearing face masks, providing hand sanitizer, conducting onsite temperature and health checks, and referring ill employees for testing.
Beshear said last week that the Kentucky Chamber of Commerce has procured 20,000 3-ply masks for businesses to provide for their employees. They can be purchased for $1 each at kychamber.com/maskorderform. The Kentucky Distillers' Association has also agreed to sell hand sanitizers to Kentucky businesses at KyHandSanitizer.com.
A continuation of the Phase 1 reopening of Kentucky's economy begins on May 20 with retail businesses and houses of worship. On May 25, businesses with close person-to-person contact will reopen, including barber shops, salons and other cosmetology businesses.
By Ken Howlett, News Director
Contact Ken at ken@k105.com