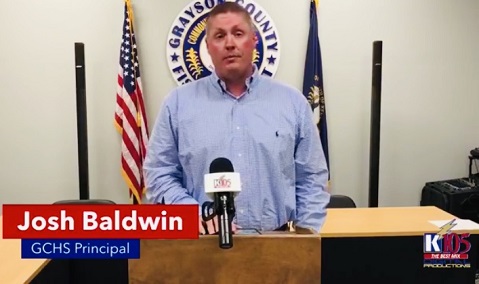 Grayson County High School Principal Josh Baldwin spoke at Judge-Executive Kevin Henderson's coronavirus (COVID-19) briefing Monday afternoon and revealed details of the Grayson County High School Class of 2020 Send-Off parade.
The parade, which will be streamed live on K105's Facebook and YouTube pages, is scheduled to begin Saturday morning, May 16 at 10:00. Seniors will also supply a playlist of songs (approved by Assistant Principal Hunter Gary) to be played during the parade
Baldwin said the 307 seniors will gather at about 9:00 a.m. Saturday at four separate locations — The Center on Main parking lot on South Main Street, and the Southgate Mall parking lots in front of Crosspoint Church, Hardee's and Farm Bureau Insurance. The seniors will be queued to leave their respective lots in a staggered fashion.
High school staff members will provide seniors with personalized signs, t-shirts and Cougar masks.
The procession will proceed south on South Main Street before making a left onto the Williams Thomason Byway. The parade will continue on the byway to Mill Street (Hwy 62) where it will turn left and proceed past Grayson County Middle School before turning left onto North Main Street at Walgreens.
On North Main Street, the parade will travel around the Leitchfield Public Square and onto South Main Street before turning right onto West White Oak Street (Hwy 62) where the procession will make its way to the high school.
Once at the school, there will be a stage set up where students will walk across, one graduate at a time, to accept their diploma (a photographer will take photos). No one other than the graduate will be permitted to get out of the car.
After exiting the stage, the graduates will enter their cars and leave the school grounds.
"It's been a big undertaking," Baldwin said about parade. "We really want to thank K105, and we want to thank Judge Henderson for his support, (as well as) the community and law enforcement. Ian Renfrow, our School Resource Officer, has done a great job putting this together. We've been working on it for two to three weeks and we hope it's going to be a good event. It obviously is not going to replace what was the normal graduation ceremony, but all things considered, within the parameters the governor and everybody is allowing us to do to keep people healthy, I think it will be a good way to celebrate our seniors. I'm proud of the collaboration with the community, it really is a great community, everybody has come together … and it's good to be a part of it."
Chaffins addresses parade-related questions
Sheriff Norman Chaffins addressed questions he and Baldwin have received from students regarding vehicles allowed in the parade, and riders in the back of pickup trucks.
After consulting with Leitchfield Police Chief David Riley and other law enforcement officials, Chaffins said no one will be allowed to ride in the back of pickup trucks during the parade for safety reasons (in August 2017, two Allen County-Scottsville students had to be hospitalized after falling out of the back of a truck during the school's annual Senior Day Parade that kicks off the school year).
Additionally, Chaffins said he has been asked if students who participate in car races at a racetrack in Morgantown will be allowed to drive their race cars in the parade. The sheriff said those cars will "absolutely not" be allowed to be part of the parade.
Chaffins added that if he allows the race cars to participate then he would have to allow ATVs, UTVs, dirt bikes and other all-terrain vehicles to participate in the parade and "we can't do that."
Parade directions for parents/community members, per GCHS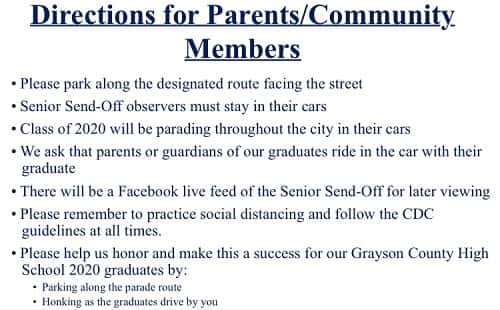 By Ken Howlett, News Director
Contact Ken at ken@k105.com