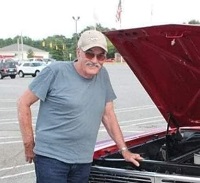 Billy L. Vincent, 87, of Lindseyville passed away at 8:00 PM Sunday May 10, 2020 at Greenview Regional Hospital in Bowling Green.
The Edmonson County native was a retired adjuster for P. Lorillard and was a member of Harvest Church of God in Louisville. He was a son of the late Edward Thomas Vincent and Zella Mae Skaggs Vincent. He was preceded in death by a grandson, Dakota Vincent and ten siblings.
Graveside services will be held at a later date at Midway Cemetery. Gravil Funeral Home is in charge of arrangements.
Surviving are four sons, Chester Vincent (Tina) of Reidsville, NC, Steve Vincent (Linda) of Elizabethtown, Huel Vincent (Darlene) of Hodgenville and Robert Vincent (Keisha) of Clarkson; a daughter, Josephine Fink (William) of Hodgenville; a special friend, Anna Lawson of Bowling Green; nine grandchildren, Shane Vincent, Tracy Rankin, Jennifer Longfellow, Derek Vincent, Scott Vincent, Victoria Jackson, Donald Fink, Eden Combs and Emma Vincent; many great grandchildren; and many nieces and nephews.