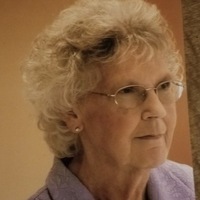 Eula M. Wilkerson, age 86, of Leitchfield, KY, passed away Thursday, (May 14, 2020) at her home in Leitchfield.
She was born on December 19, 1933 in Grayson County, KY, the daughter of the late Mitchell and Mae Powell Beeler.
She retired from the Walter T. Kelley Company, and enjoyed crocheting, gardening, sewing, and visiting her friends at the Senior Citizens Center. She was a member of the Pleasant Valley United Baptist Church.
She is survived by her husband of 66 years, Hayward Wilkerson of Leitchfield; two daughters, Elois Humphrey (David) and Pam McCrady (Jimmy) both of Leitchfield; a son, Karl Wilkerson (Patsy) of Clarkson, KY; five grandchildren, Josh McCrady, Erica Cole (Brad), Heather Powell, Tyler Wilkerson (Kay) and Kayla Wilkerson; five great-grandchildren, Aiden & Avery McCrady, Adalynn & Kolton Wilkerson and Carson Summers; and one sister, Elaine Meredith of Clarkson. Several nieces and nephews also survive.
Other than her parents, she was preceded in death by a brother, Percy Beeler and a sister, Linda Beeler.
Private services will be held.