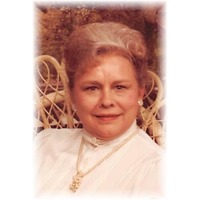 Augusta Magadalene Johnson Blair, age 90, of Leitchfield, KY, passed away Saturday, (May 16, 2020) in Leitchfield.
She was born on June 10, 1929 in Grayson County, KY, the daughter of the late EW and Lois Hayes Johnson. To this union were ten children born. There were two sisters who passed away in infancy, Vernice and Virginia. Other family members preceding her in death were her father and mother, sisters, Lorene Oller, Lucille Shirrell and Juanita Staggs, and one brother, Damon Johnson. Her husband of sixty-five years, Virgil Blair, passed away six months ago.
She was retired from American Tobacco Company. She worked as a seamstress. She enjoyed sewing and doing alterations. Augusta also enjoyed traveling. She was a member of the Eastern Star and was past Royal Matron of Amaranth. She was a member of the First United (Longfield) Baptist Church in Louisville.
She is survived by three sisters, Catherine Haynes and Opal Skaggs of Leitchfield and Marcella Mitchell of Georgetown. Several nieces and nephews are left to morn her passing and to remember her beautiful smile and sweet disposition.
Funeral services will be private. Private burial will be in the Walnut Hill Cemetery.