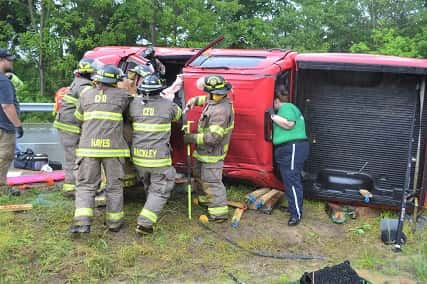 Multiple fire departments worked for over an hour to free a Leitchfield woman from her vehicle after it flipped on the Western Kentucky Parkway.
Thursday evening at approximately 5:35, Grayson County Sheriff's Office Deputies Rick Mehlbauer and Andy Vincent, the Caneyville Fire Department and EMS responded to just east of the 96 mile marker of the westbound parkway on the report of a woman trapped in a Toyota Tundra truck.
The trapped woman, 38-year-old Kristin M. Noblett, had been traveling east in a downpour when she lost control of the Tundra (possibly hydroplaning), entered the median and flipped at least once before coming to rest in the fast lane of the westbound parkway. The vehicle traveled about 190 feet after entering the median, according to police.
Caneyville fire personnel were soon assisted by the Leitchfield Fire Department as firefighters worked for over an hour to free Noblett from the vehicle, as the roof of the truck's cab had to be partially removed.
Noblett was transported to Hardin Memorial Hospital by EMS with what appeared to be non-life threatening injuries.
After several vehicles sped past the scene in the westbound "slow" lane as firefighters worked to free Noblett, officials shut down the westbound parkway for the safety of the firefighters as well as the victim.
Neither of Noblett's two passengers suffered injuries.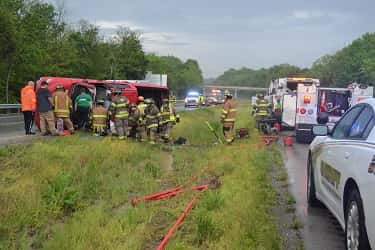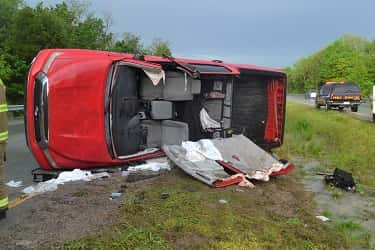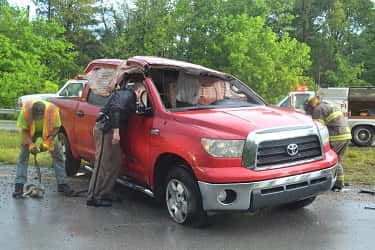 By Ken Howlett, News Director
Contact Ken at ken@k105.com