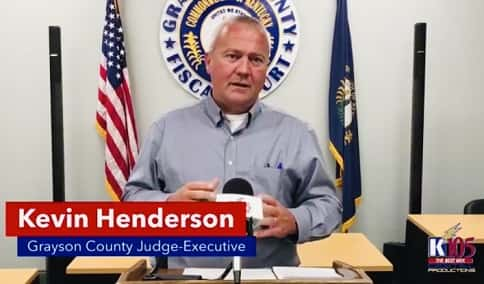 On Friday, Judge-Executive Kevin Henderson announced only two new cases of coronavirus (COVID-19) in Grayson County were confirmed since Thursday afternoon.
Henderson said the two cases are a 44-year-old inmate at the Grayson County Detention Center while the other is a 22-year-old male healthcare worker who works in another county.
The two newly confirmed COVID-19 cases increase the county's total to 131, with 71 of those cases active, according to Henderson. No new deaths were reported by officials.
The judge noted that 51 (38.9 percent) people have been released from quarantine.
Of the county's cases, 45 are residents of Grayson Nursing & Rehabilitation while 17 are staff members. Spring View Nursing & Rehabilitation has had 12 residents test positive along with three employees. Five cases have arisen from Twin Lakes Regional Medical Center.
The county has eight COVID-19-related deaths; seven connected to Grayson Nursing & Rehabilitation and a 66-year-old county resident.
A total of 993 tests have been administered in the county, with 815 tests returned negative and 47 pending.
Grayson County Detention Center update
The newest victim at the Grayson County Detention Center raises the facility's cases of the virus to 24, as 22 inmates and two deputies have tested positive (one positive staff member resides in Breckinridge Co. and is not counted in Grayson County's totals).
Jailer Jason Woosley said 29 inmates have been tested for COVID-19, and of the 22 positive cases, 20 are asymptomatic and two inmates are hospitalized. The detention center has tested 16 deputies, Woosley said, resulting in the two aforementioned positive cases.
"We are still doing everything that we can to keep this from spreading throughout the facility," Woosley said. "We are still separating those who are infected from those who are not … We are still doing all the cleaning measure that we have been. We have ramped it up even more since the last time I spoke (on Monday), so I feel confident that we're doing everything that we can to keep this from spreading in the facility."
Woosley encouraged anyone with questions regarding the detention center to call the facility at 270-259-3636.
Tasked with limiting the spread of COVID-19 in a facility with nearly 600 inmates and about 120 staff (at all three facilities combined), Henderson praised the effort Woosley and his staff have put forth in controlling the virus' spread.
"I want to thank the jail staff … Me and Jason talked numerous times when all this started happening and it's not a fact of we said let's hope it doesn't get in the jail, it's a fact of when it gets in the jail," Henderson said. "We knew it was going to happen, we just didn't know when. They've done everything that they can possibly do. I talked to someone in Frankfort today with state government and (the person) said we have probably the top-notch jail in the state. And I won't disagree, not only because of Jason, it's also because of the employees."
Final scheduled briefing
With the virus appearing to plateau in Grayson County, as only eight new cases of COVID-19 have been confirmed over the last four days, Henderson said short of something "drastic" happening, Friday's briefing is the final briefing county officials will hold. Henderson added that, going forward, he and the Grayson County Health Department will update citizens of new COVID-19 cases on their respective Facebook pages.
By Ken Howlett, News Director
Contact Ken at ken@k105.com