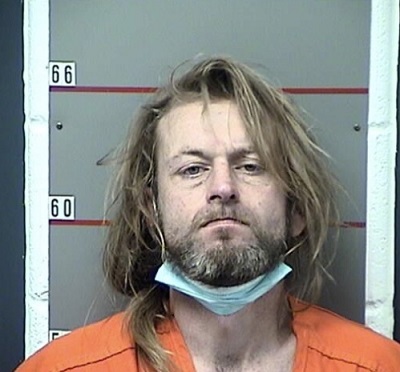 An intoxicated Butler County man has been arrested after initially fleeing then taking a swing at a Grayson County Sheriff's  Office sergeant.
Thursday night at approximately 6:40, Sgt. Zane Greer was patrolling near the 5000 block of Rabbit Flat Road, just south of Caneyville, when he observed a motorcycle, being driven by 40-year-old Josey R. Renfrow, of Jetson, driving erratically.
As Greer attempted to conduct a traffic stop on Renfrow, the suspect briefly fled before traveling onto an unmarked lane off Rabbit Flat Road. The motorcycle became stuck in the mud as Renfrow then attempted to flee Greer on foot, according to police. The sergeant, though, quickly caught Renfrow, who then took a swing at Greer, with Greer taking Renfrow to the ground and effecting the arrest.
Renfrow was arrested and charged with his second DUI, resisting arrest, reckless driving, driving on a DUI suspended license, no operator's license, permitting operation of a motor vehicle with improper registration, no registration plates, and no registration receipt.
He was lodged in the Grayson County Detention Center.
By Ken Howlett, News Director
Contact Ken at ken@k105.com