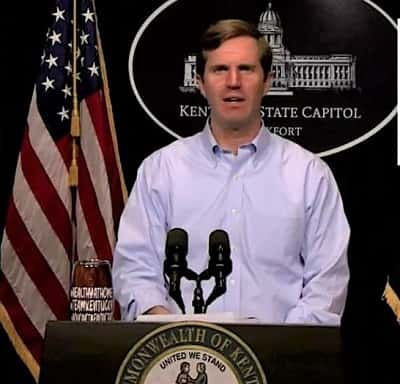 Gov. Andy Beshear announced 135 new coronavirus (COVID-19) cases in Kentucky on Thursday, the fewest number of new cases on a week day in several weeks.
The new cases increase the state's total to 8,236 cases.
"We may be more than just plateaued, we may be in true reduction in what we're seeing about the spread," Beshear said. "Where we are now compared to where we were even three weeks ago is a much better place."
The governor also reported 10 new COVID-19 deaths, giving the state 40 deaths over the last three days, and a total of 386 (4.7 percent fatality rate) deaths since the onset of the pandemic.
The newly reported deaths include a 93-year-old woman from Jackson County, a 62-year-old man from Fayette County, 73-year-old woman from Adair County, a 72-year-old man from Simpson County, two 56-year-old women from Warren County, an 81-year-old man and an 86-year-old woman from Oldham County, and 69- and 78-year-old men from Jefferson County.
Beshear said 2,041 patients have been hospitalized since the beginning of the pandemic, with 475 victims currently in a hospital. To date, 886 people have been treated in ICU, with 92 patients currently in intensive care.
At least 3,008 (36.5 percent) Kentuckians have recovered from the virus, and 166,240 tests have been administered.
Childcare reopening
Eric Friedlander, secretary for the Cabinet for Health and Family Services, announced that on June 8 in-home childcare programs can open.
On June 15, center-based licensed childcare programs can reopen to all families.
"Today is a day of really good news for many people," Friedlander said. "Childcare is one of the areas we know is critical to reopening the economy. It is critical to parents and has been critical to our essential workers. It's always a balance between protecting ourselves and our families and going to back to being Healthy at Work."
The maximum group size will be 10 children, Friedlander said. Children will remain in the same groups all day and staff will be assigned to the same children each day to reduce exposure.
All adults must wear a face mask while in any childcare program (in-home or center-based), officials said, and children five-years-old or younger should not wear masks, but older children may wear masks as they are able.
Programs should stagger playground time, eliminate center-wide family events and field trips, as well as use centralized drop-off/pick-up locations to eliminate unnecessary traffic to classrooms.
Friedlander also highlighted support for providers, as all programs, in-home and center-based, will receive additional funding for cleaning and PPE supplies.
Continued assistance will be available from state personnel and resources.
Click to see the complete guidance for in-home child care and center-based child care.
By Ken Howlett, News Director
Contact Ken at ken@k105.com