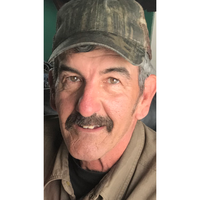 David Colston, age 67, of Falls of Rough, KY, passed away Saturday, (May 23, 2020) at the Baptist Health in Louisville.
He was born on November 13, 1952 in Jackson, Mississippi, the son of the late Quentin and Margaret Shultz Colston.
He was a commercial diver, a former Deputy Sheriff for the Grayson County Sheriff's Department and a former Fire Chief of the Falls of Rough Fire Department.  He was a 1970 graduate from Fairdale High School in Louisville. He enjoyed volunteering his diving services to help his community, spending time at the lake, fishing, kayaking and was a member of the Falls of Rough Baptist Church.
He is survived by his three daughters, Tracy Lukee (Brian) of Mt. Washington, KY, Cassie Langley (Timmy) of McDaniels, KY, and Olivia Duvall (Tim) of Leitchfield, KY; six granddaughters, Emma, Shelby, Savannah, Hannah, Maddie, and Mallie; one grandson, Casey; three great-grandchildren; two brothers, Sonny Colston (Patty) of English, IN and Richard Colston of Vero Beach, FL; one uncle, Coleman Colston (Marilyn) of Pleasureville, KY; and one aunt, Debbie Graham of Goshen, KY.
Funeral services will be at 2:00 PM Thursday, (May 28, 2020) at the Dermitt Funeral Home in Leitchfield. Bro. Roger Allen will be officiating. Burial will be in the Shady Grove Cemetery.
Visitation will be at the Dermitt Funeral Home from 11:00 AM to 8:00 PM on Wednesday and from 9:00 AM Thursday until time of services.
Online condolences can be made in the guestbook on our website at www.dermittfuneralhome.com.