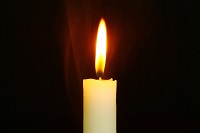 Jeanette Juanita Drake, age 98, passed away Wednesday, May 27, 2020, at Springview Nursing and Rehabilitation in Leitchfield.
She was born January 3, 1922, in St. Paul, KY to the late James and Malisia Rogers Hazelwood. She was a member of St. Paul Catholic Church and a housewife who loved cooking, fishing and playing bingo.
Besides her parents, she was also preceded in death by her husband, Wavie E. Drake, Sr.; three sons, Gary E. Drake, Sr., Wavie "Eddie" Drake, Jr. and Wendell Drake; four daughters, Shirley Martinek, Mary Leah Smallwood, Jeanette Drake and Stephanie Drake; a great-grandson, Cole Brown and 11 siblings.
Juanita is survived by four daughters, Wand Hart (Walter), Pamela Drake (Bob), Gail Drake and Robin Pierce (Roger) and one son, Keith Drake (Dessie). She also leaves 17 grandchildren; 26 great-grandchildren; 9 great-great-grandchildren and many nieces, nephews, great-nieces and nephews to cherish her memory.
A private funeral mass will be held at St. Paul Catholic Church with Rev. Babu Kulathumkal officiating. Cremation will follow the service.
Visitation will be from 5 to 8 PM, Tuesday, June 2, 2020, at Rogers-Oller Funeral Home.
In accordance with government regulations, we ask that you please wear a mask or face covering. We also have to limit the number of people who can be in the facility at a time and request that you practice the 6 feet social distance recommendations.