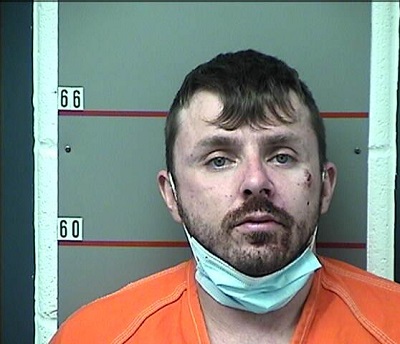 An intoxicated Leitchfield man has been arrested after brandishing a knife and threatening two people, including a relative, before barricading himself inside a bathroom.
The Leitchfield Police Department and Grayson County Sheriff's Office swarmed a mobile home at approximately 9:15 Thursday night after Central Dispatch reported a man with a knife was threatening two people at a residence in the 100 block of Fraim Street.
Upon arriving, multiple police units discovered the suspect, 33-year-old Carry R. Elder, had fled the mobile home, running about 100 yards to a relative's residence in the 500 block of West Chestnut Street, where he barricaded himself inside a small bathroom.
Several LPD officers and Grayson County deputies arrived at the home and gave commands for Elder to exit the bathroom, according to the arrest citation. After he failed to comply, officers forced the bathroom door open, with Elder attempting to leave the bathroom "in an aggressive manner."
After ignoring several commands to comply, and while continuing to be "belligerent," Elder was tased by Grayson County Sheriff's Office Sgt. Fred Norder, bringing the incident to an end.
The initial investigation showed that Elder was inside the mobile home on Fraim Street when the suspect and the male resident began arguing. Elder picked up a large knife, with a blade approximately seven inches long, and approached the male and female residents of the home (the female is related to Elder).
The male resident then punched Elder twice, the citation says, but the suspect continued to approach the pair.
The couple then ran out the front door of the mobile home, with Elder following. The pair, though, shut the door behind them and held it shut, keeping Elder inside.
Elder then "struck the door multiple times with the knife" as he stabbed at the door, causing damage and cutting the male resident's hand as he held the door shut.
Elder then left the mobile home and ran to another relative's house on West Chestnut Street where police located him.
After being medically cleared at Twin Lakes Regional Medical Center, Elder was lodged in the Grayson County Detention Center (GCDC) where he's been charged with two counts of felony wanton endangerment, resisting arrest, alcohol intoxication in a public place, and disorderly conduct.
After arriving at the GCDC, staff members located a baggie of marijuana on Elder, resulting in him being charged with promoting contraband, as well.
Responding to the incident were Leitchfield Police Officers Kelsey Overton, Adam Cottrell, Ian Renfrow, and Chase Melton, along with Norder and Deputies Andy Vincent and Jason Luedke.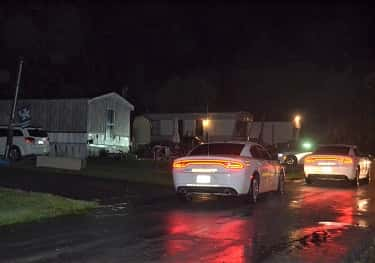 By Ken Howlett, News Director
Contact Ken at ken@k105.com