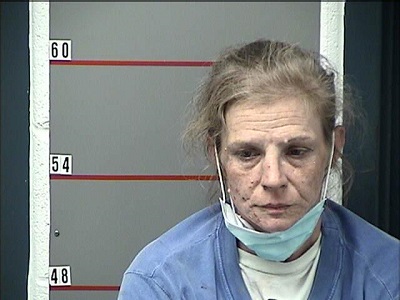 A Clarkson woman has been arrested for the second time in less than two months with drugs and a stolen check.
Friday night at approximately 6:45, Grayson County Sheriff's Office Sgt. Zane Greer responded to a single-vehicle accident at the intersection of Skees Road and Spurrier Road after 45-year-old Laurel D. Powell ran off the road and through a fence.
When Greer arrived and made contact with Powell, who was still in her car, she was attempting to "hide an unknown drug," according to the arrest citation. Greer also noted that she appeared to be "manifestly under the influence of some drugs."
She was given a field sobriety test and arrested.
During a search of Powell's Hyundai Sonata, Greer located pills, a stolen check and a syringe. He also found several pills in Powell's purse.
She was charged with DUI (aggravating circumstances), possession of a controlled substance (drug unspecified), having a prescription controlled substance not in its proper container, illegal possession of a legend drug, criminal possession of a forged instrument, first-degree criminal mischief, and possession of a drug paraphernalia along with non-moving violations.
Powell was lodged in the Grayson County Detention Center.
In early April, Powell was arrested along with two other suspects in the parking lot of B&J Market in Big Clifty after law enforcement received a tip about suspicious activity.
In that arrest, deputies searching Powell's minivan found methamphetamine in several areas of the vehicle, a meth pipe and a loaded syringe containing meth. Police also found a stolen, signed blank check for $2,000 in Powell's possession.
(Powell's first name has been spelled two different ways, Larel and Laurel, on her two recent arrest citations)
By Ken Howlett, News Director
Contact Ken at ken@k105.com