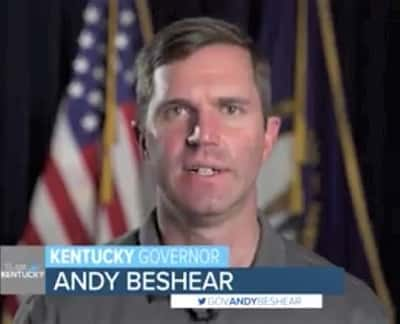 Gov. Andy Beshear announced Monday that 345 coronavirus (COVID-19) cases were confirmed Sunday and Monday.
On Sunday, there were 131 new cases, while 214 new cases of the virus were confirmed on Monday. The new cases increase Kentucky's confirmed COVID-19 cases to 10,046.
Eight new deaths were also reported on Monday, raising the state's coronavirus fatalities to 439 (4.4 percent fatality rate) victims. No new deaths were reported Sunday.
The deaths reported Monday include an 84-year-old woman from Campbell County; an 82-year-old woman from Gallatin County; three men, ages 33, 53 and 75, from Jefferson County; a 90-year-old woman from Kenton County; and an 88-year-old man from Logan County. Grayson County's latest COVID-19 fatality, a 98-year-old female resident of Spring View Nursing & Rehabilitation, is included the state's total.
Officials said 2,274 (22.6 percent) victims have been hospitalized, with 457 people currently in a hospital. Beshear added that 950 (9.4 percent) patients have been treated in ICU, while 90 people are currently in intensive care.
At least 3,232 (32.2 percent) victims have recovered from the virus, and 236,416 COVID-19 tests have been administered in Kentucky.
By Ken Howlett, News Director
Contact Ken at ken@k105.com