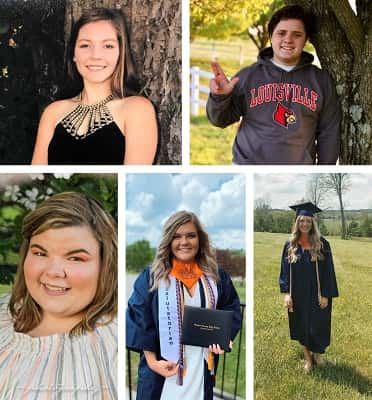 The Grayson County Historical Society has announced the winners of the 2020 Nancy & Ken Robinson Scholarship.
Generally, the historical society awards two scholarships per year to Grayson County High School graduates. This year, though, five $500 scholarships were awarded.
"While we normally only give away two scholarships, with this year's special circumstances, and the fact that we had several deserving applicant essays, we were fortunate enough to be able to present all five of this year's scholarship applicants with $500 checks," said Scotty Gore, President of the Grayson County Historical Society.
The scholarship winners are:
Mackenzie Willoughby, of Clarkson, who aspires to teach and told the historical society about receiving the scholarship:
"I was honored to receive news that I was chosen as a recipient for the 2020 Ken and Nancy Robinson Scholarship. I am the daughter of Garrett and Tiffany Willoughby, and I enjoy spending time outdoors with my family and friends. My hobbies include volleyball, bass fishing, and watching Netflix series. I am currently working on my Associates in Arts through Elizabethtown Community and Technical College, where I also hope to obtain my Bachelors in Elementary Education. Education is very important to me, and this scholarship will help take the financial stress away so I can focus on my studies. I am so excited to become a teacher and influence generations to come. I had so many role models growing up, and I hope that I can be the same for the children in my future classroom. Thank you so much for this opportunity, it is greatly appreciated. "
Shelby Pierce, of Clarkson, the Salutatorian of the 2020 GCHS graduating class, said:
"I am the daughter of Anthony and Tammy Pierce. I enjoy golfing, working at The Beach Club, and going on adventures with friends (and) family. I have always strived to work hard and be successful in all that I do, and I was given the title as the GCHS Class of 2020 Salutatorian to prove this. As of right now, I plan to attend ECTC to major in Nursing. After this, I will transfer to a university to earn my BSN. I plan to continue my education until I obtain my CRNA (nurse anesthetist certification). I am very blessed to have been given the chance to receive this scholarship, and I will use it well! Thank you."
Kaylee Embry, of Caneyville, who plans on a career in healthcare administration, said:
"I am currently employed at Grayson Nursing and Rehabilitation. I absolutely love my job and all the residents that I consider family. My family consist of my mother and father, Norman and Stephanie Jennings. I have five siblings, four sisters Maggie, Allie, Sara and Emma and a brother Brodie. Last May I fought the hardest battle I have ever faced and that was losing my brother. But thankfully with supportive family and friends and lots of love we are learning how to cope every day. While in high school I was part of HOSA, DECA, Pep Club and Student Council. My future plans are to attend Elizabethtown Community and Technical College to finish up my basics. Then I will bridge over to Western Kentucky University where I will gain a degree in a Healthcare Administration."
Spencer Cannon, of Leitchfield, a graduate of the prestigious Gatton Academy at WKU, said:
"I just graduated from Grayson County High School and the Gatton Academy. Kyle and Holle Cannon are my parents and I have two younger siblings, Scout and Finn. I am attending the University of Louisville as a Biology major and on the pre-med track. I am interested in pursuing sports medicine in my post-graduate education. My favorite hobbies are tennis and watching sports."
Alexis Back, of Clarkson, who plans to work in neurology, said:
"I will be attending the University of Kentucky in the Fall of 2020. I am majoring in Biochemistry and minoring in Psychology and Neuroscience. I think having a round understanding of the brain's operation can be very beneficial in research. I aspire to become a neurologist and open my own place to practice after residency. I enjoy running and exercising as well as yoga, art and nature. My family and friends are very important to me. I enjoy spending time with them as much as possible whenever I am not working. Like anyone, I want to travel the world and see new places while gathering as much knowledge as possible!"
(Photo: Top l-r, Alexis Back, Spencer Cannon: Bottom l-r, Kaylee Embry, Shelby Pierce, Mackenzie Willoughby, courtesy of the GC Historical Society)
By Ken Howlett, News Director
Contact Ken at ken@k105.com