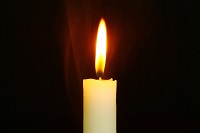 James A. Brooks, age 67, of Leitchfield, KY, passed away Thursday, (July 9, 2020) in Leitchfield, KY.
He was born on May 18, 1953, in Edmonson Co, KY, the son of the late Curtis and Helen Poteet Brooks.
He was a construction worker, who loved nature and was a good caretaker.
He is survived by a daughter, Pamela A. Brooks of Louisville, KY, one sister, Agnes L Brooks of Leitchfield, his wife, Regina Brooks of Leitchfield, two step-children, Danny and Tanya McCarty, three step grandchildren and one grand-dog, Dottie.
Other than his parents, he was preceded in death by a brother, Charles Brooks.
Graveside services will be at 11:00 a.m. Monday, (July 13, 2020) at the Smith-Jack Cemetery in Edmonson County.
Visitation will be at the Dermitt Funeral Home from 1:00 p.m. to 8:00 p.m. on Sunday. There will be no visitation on Monday.
Online condolences can be made in the guestbook on our website at www.dermittfuneralhome.com.