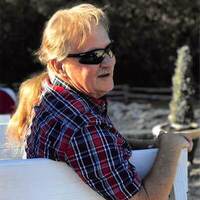 Mr. David Napper, Sr., age 63, of Leitchfield, formerly of Fairdale returned to his Heavenly Father on July 18, 2020.
Mr. Napper was born on January 14, 1957 in Louisville, KY to the late Alvin and Loretta (Hughes) Napper. Mr. Napper was a self-employed painter and owner of Lonesome Dove Bait and Tackle.
Among those that preceded him in death are his parents; and grandsons, Zack and Kyle Napper.
He leaves to cherish his memory his loving wife of 43 years, Beverly (Duke) Napper; children, David Napper, Jr. (Tonya), Wendy Sage (Nathan) and Whitney Stout (Josh); grandchildren, Nathan, Katie, Jasmine, Abbie, Peyton, Kayley, Kendall and Little Josh; siblings, Sarah Haddaway (Fred), Peanut Napper (Brandy), Jane Eva Mattingly, Lee Ann Mathis (Kevin) and Regina Kerns; and special friend, Timmy Embry.
Funeral service will be conducted at 2 pm on Wednesday, July 22, 2020 in the chapel of Schoppenhorst, Underwood and Brooks Funeral Home (Preston Highway at Brooks Road) with interment in Pennsylvania Run Cemetery. Friends may pay their respects on Tuesday from 1-8 pm and Wednesday from 9 am until time of service at the funeral home.
Family video on www.subfuneralhome.com