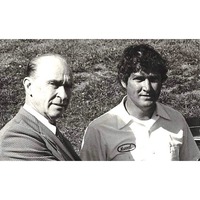 Murrel Thomas "Bear" Carter, age 83, of Leitchfield, KY, passed away Monday, (July 20, 2020) at Grayson Manor Nursing Home and Rebab, in Leitchfield KY.
He was born on January 13, 1937 in Grayson Co. KY, the son of the late Rev. Arthur and Hazel Dennison Carter.
He was a heavy machine operator who was an Avid outdoorsman and was a member of the Short Creek Cumberland Presbyterian Church.
He is survived by of his children, Kim Higdon, Connie Wilson, Keith Carter and Cris Roberts all of Leitchfield, nine grandchildren and several great grandchildren, his siblings, Shirley Ashley of Louisville, KY, Rev. Billy Carter of Leitchfield, Larry Carter of Louisville, Barbara Varner of Louisville, Pat Portman of Louisville, Sharon Boring of Florida, Sandra Mercer and John Carter both of Leitchfield and Tom Carter of Elizabethtown, KY.
Cremation was chosen and a memorial service will be at 1:00 p.m. Saturday, (July 25, 2020) at the Short Creek Cumberland Presbyterian Church.
The family will receive friends at the church from 11:00 a.m. until time of service.
Friends and family is requested to use a mask and use social distancing while at the church.
Online condolences can be made in the guestbook on our website at www.dermittfuneralhome.com.