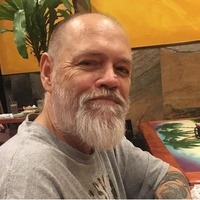 Alex Wathen, age 61, of Leitchfield, KY, passed away Friday, (July 17, 2020) at Norton Hospital in Louisville, KY.
He was born on August 8, 1958 in Elizabethtown, KY, the son of the late Andrew and Lydia Polston Wathen.
He was a former worker of Escue Wood Preserving who enjoyed fishing, loved his family, and loved having his own independence of being able to drive around and do whatever he wanted to do.
He is survived by his wife, Dawn Wathen; three sons, Christian Goostree, Caleb Posey, and Kyler Goostree all of Leitchfield, KY; two daughters, Rosa Hatfield (Rodney) and Kimberly Hutchins (Brandon) both of Leitchfield, KY;  nine grandchildren, Jimmy "Bubba" Hatfield, Dustin Goostree (Hannah), Clarissa Goostree, Michael Goostree, Rebecca Wathen, Christine Huff, Lexie Logsdon, Allie Hutchins, and Braleigh Hutchins; one brother, Jess Wathen; five sisters, Susie Cundiff, Katherine Greer (Kevin), Rosie Welch (Herbie), Velma "Bodie" Goostree (Roger) and Theresa Tucker (Larry).
Other than her/his parents, he was preceded in death by one brother, Bunny Wathen; and one granddaughter, Chasity Goostree.
Funeral services will be at 2:00 p.m. Friday, (July 24, 2020) at the Dermitt Funeral Home in Leitchfield. Bro. Josh Milburn will be officiating. Burial will be in the Bethel Cemetery.
Visitation will be at the Dermitt Funeral Home from 9:00 a.m. Friday till time of services.
Expressions of sympathy may take the form of donations to the Dermitt Funeral Home to assist with final expenses.
Online condolences can be made in the guestbook on our website at www.dermittfuneralhome.com.