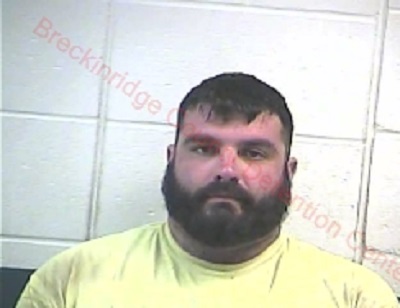 A convicted felon with two felony warrants has been arrested by the Grayson County Sheriff's Office.
Monday evening at approximately 5:30, Grayson County Sgt. Fred Norder conducted a traffic stop on a vehicle on East Chestnut Street after identifying the driver of a 1999 Chevrolet truck as 30-year-old James T. Holzworth, of Lewisport, who Norder knew had warrants for his arrest out of Hancock County.
Holzworth was wanted on charges including first-degree wanton endangerment and possession of a firearm by a convicted felon, both felonies. Court documents also indicate Holzworth "failed to comply with a probation and parole pre-sentencing investigation."
The suspect was additionally wanted via a criminal summons out of Henderson County for criminal trespassing and illegal taking of wildlife after he was involved in the illegal killing of a deer in early June, according to court documents.
Holzworth was taken into custody by Norder without incident, and now faces additional charges of driving on a suspended or revoked license, no registration plates, no registration receipt, and no insurance.
He was transported to the Breckinridge County Jail by Norder.
Norder was assisted at the scene by Leitchfield Police Department Sgt. Robert Jackson and Officers Kelsey Overton, Chase Melton  and Ian Renfrow.
By Ken Howlett, News Director
Contact Ken at ken@k105.com