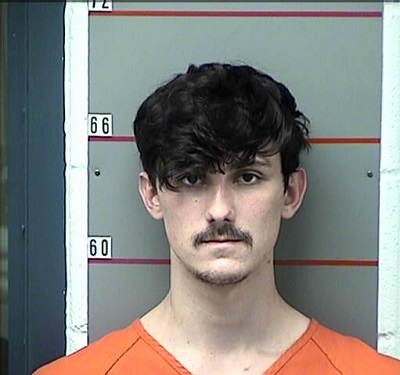 A Leitchfield man under the influence has been arrested during a traffic stop in Clarkson after being found with a "significant amount of marijuana," according to police.
Sunday afternoon at approximately 1:50, Clarkson Officer Blake Elmore was patrolling on Millerstown Street when he observed a 2005 Honda Pilot make an erratic turn onto West Main Street. The vehicle initially turned into the wrong lane before nearly leaving the roadway as it traveled on the yellow and white lines, according to the arrest citation.
Elmore conducted a traffic stop at Midway Pharmacy and made contact with the driver, 20-year-old Kaden S. Dowell, when Elmore detected a strong odor of marijuana coming from inside the vehicle, the citation states.
As Dowell exited the vehicle on Elmore's instruction, the officer told Dowell he smelled marijuana with Dowell replying, "I used hemp, that may be what you're smelling."
Elmore then searched the Honda and initially located a small amount of marijuana, a handgun and pipes in the center console. The officer also found a cigarette pack containing nearly $450.
On the backseat floorboard, Elmore located a cooler containing "marijuana vape pens, sandwich bags, a scale and jars," according to the citation. A large amount of marijuana was found in a "black ammo can."
Dowell was arrested and charged with trafficking in marijuana, DUI, possession of marijuana, and possession of drug paraphernalia. He was lodged in the Grayson County Detention Center but is no longer listed as an inmate.
Leitchfield Police Officer Eugene Cain assisted Elmore at the scene.
By Ken Howlett, News Director
Contact Ken at ken@k105.com