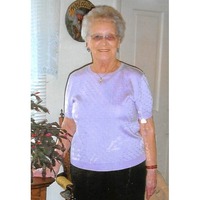 Olive (Pat) Duvall, age 97, of Leitchfield, KY, passed away Tuesday, (July 28, 2020) at Regis Woods Nursing Facility in Louisville, Ky.
She was born on June 14, 1923 in Somerset, England the daughter of the late   Ernest and Ada Clement Miller.
She was a retired housekeeper for the Twin Lakes Regional Medical Center. She was a member of Clarkson Baptist Church and a lifelong member of The Order of Eastern Star of Shrewsbury. She enjoyed gardening, watching TV, reading, and flowers.
She is survived by five children; Raymond Duvall (Margie) of Summit, Ky, Joanna Brosky (Michael) of Bardstown, Ky, David Duvall (Patty) of Elizabethtown, Ky, Rosemary Belcher (Bruce) of Leitchfield, Ky, and Julie Hicks (Jamie) of Leitchfield, Ky. She is also survived by twelve grandchildren and eighteen great-grandchildren.
Other than her parents, she was preceded in death by her husband, Ray Duvall, four brothers and two sisters.
Funeral services will be at 11:00 a.m. CST Friday, (July 31, 2020) at the Dermitt Funeral Home in Leitchfield. Bro. Lee Schroerlucke will be officiating. Burial will be in the Clarkson Baptist Cemetery.
Visitation will be at the Dermitt Funeral Home from 3:00 p.m. to 8:00 p.m. CST on Thursday and from 9:00 a.m. CST Friday until time of services. Eastern Star services will be conducted Thursday evening.
Online condolences can be made in the guestbook on our website at www.dermittfuneralhome.com.