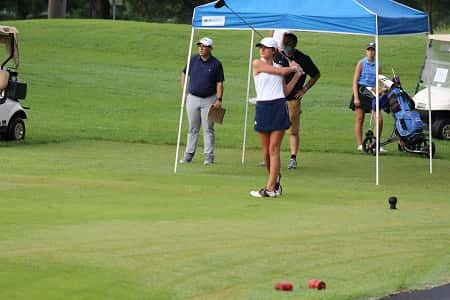 For the first time since early March, a Grayson County High School team competed athletically on Friday morning.
While the rest of the fall sports will have to wait until September to begin their seasons, the KHSAA gave permission for high school golf teams to tee off beginning today. 
The Lady Cougar golf team sent a team of three to compete in the Central Hardin Lady Bruin Invitational held at the Elizabethtown Country Club.
The team is looking to replace multiple graduates from last season's group that finished fourth in the region and sent Abigail Garrett to the KHSAA State Tournament.
In Friday's competition, Sophia Elmore led the way for the Lady Cougars by firing a 105 over the 18-hole course. She finished the day with a par on the 6th hole and seven bogeys.
Joining Elmore on the greens, were Natalie Garrett and Anna McKinney who both shot a 115. McKinney's day was highlighted by pars on the 6th and 13th hole.
For more from the Grayson County golf teams this season, you can follow them on Twitter and Facebook, and for complete GCHS updates, follow @K105sports. 
By Sam Gormley, Play-By-Play Announcer/Local Sports
Reach Sam at sam@k105.com
(Headline Photo: Sophia Elmore by: Nate Bryan @NateInSports)