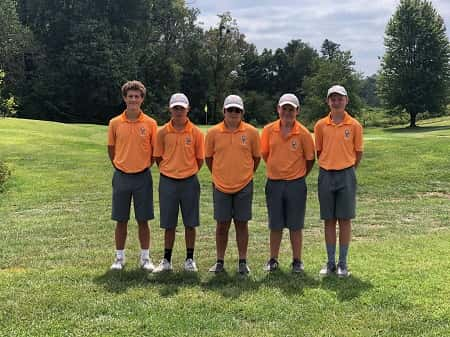 Coming on the heels of Grant Manion competing as an individual at Monday's Greenwood Invitational, the entire Grayson County Boys' Golf team took the greens for the first time on Tuesday.
The five-person group competed in the Franklin County High School Flyer "COVID" Classic held at the Juniper Hills GC in Frankfort.
Leading the way for the Cougars was freshman Landon Skees who fired a 6-over 76 which was good for 19th place overall. Coming in one shot behind that mark was senior Grant Manion with a 7-over 77.
Also opening their season today was Jackson Mayes (80), Jaxon Higdon (83), and Griffen Chino (102).
As a team, the Cougars finished with a +36 mark which was good for 6th place overall in the invitational.
By Sam Gormley, Play-By-Play Announcer/Local Sports
Reach Sam at sam@k105.com
(Headline Photo: Cougar Boys' Golf team from 2019 courtesy of Cougar Golf on Twitter)